NEWBURY PARK, Calif. — CyberTouch AV has released a complete line of touch screen monitors compatible with the Extron Annotator. Ranging in sizes from 6.4 to 52 inches, CyberTouch AV's line of touch screen monitors are offered in desktop/wall-mount (Orion), panel-mount / flush-mount (Eclipse) and open-frame (Sola) styles. All of CyberTouch AV touch screen monitors connect with the annotator via USB or serial connection. CyberTouch AV offers the largest line of Extron Annotator compatible products in the industry.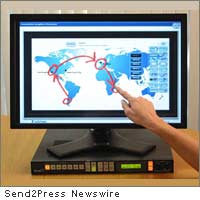 Founded in 1982, CyberTouch AV designs, manufactures, and markets specialty touch screen monitors and related touch products for the audio visual industry. CyberTouch AV touch screen monitors are compatible with the leading AV companies.
The Extron Annotator is a high performance, hardware-based annotation processor that offers live annotation capabilities plus high performance scaling and switching on any type of display. With an intuitive graphical user interface, a presenter can easily draw, point, or add text to motion video or still images using the CyberTouch AV touch screen monitors. The Annotator's seven-input switcher supports analog and digital video formats including RGB, DVI, and HD-SDI, simplifying system design and significantly reducing overall system cost.
The Annotator is ideal for applications that require the overlay of graphics and text within A/V presentations, including law enforcement, medicine, education, telepresence, and live events.
For more information please call 805-499-5000 ext. 4140 or visit: www.CyberTouchAV.com .