NEW YORK, N.Y. — SportsGist (www.SportsGist.com), a subsidiary of Total Sportz, LLC, is a new, online community that encourages athletes to interact with other athletes; It provides a platform for athletes to network and communicate through videos, photos and blogs.
Top ten activities for members are: Meeting other athletes; being able to freely express themselves; connecting with friends; customizing personal profiles; keeping a blog; watching cool videos; chatting with friends; finding a coach; recruiting new athletes; and browsing photos.
Current discussion forums include: fantasy sports, college and high school sports, athlete spotlights, pro sports, recruiting, and more.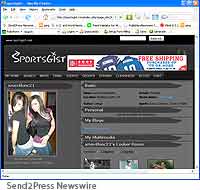 Members are athletes of all levels who create free profiles containing personal and performance information. From there, members can upload photos and videos, and interact with others in the network.
Founders, Jeff Becker and Nick Sunderman, met while playing minor league baseball for the Cleveland Indians. After going in different directions after their athletic careers they reunited to form SportsGist.com.
"Sports have played a pivotal role in my life," Jeff Becker, founder and CEO of SportsGist said. "I believe sports go beyond wins and losses and are key factors in shaping the character of a person."
Becker and Sunderman bring an array of relevant talent to the table. Becker received many accolades for sports during high school and went on to attend Duke University where he played on the baseball team and was a three-time Captain and named ACC Rookie of the Year; he holds numerous records including most hits, doubles, RBIs, HBPs and games started.
Sunderman graduated from the University of North Texas where he received a B.A. in Kinesiology with an emphasis in sports management. His work experience has included managing a 15,000 square foot, 2,000 member athletic facility; managing a specialty ad sales floor for Sports Promotion Network; and being the general manager of Sluggers, a 10,000 square foot indoor athletic facility.
SportsGist.com is a real site for real athletes. It is geared to not only athletes, but sports fans as well. The SportsGist.com team differs from other athletic social networking systems because it has a proven track record for enhancing the ability of an athlete's success.
SportsGist.com, founded in late 2006, has experienced rapid growth with approximately 3,000 new members each week.
Original news announcement issued by and © Send2Press Newswire
[tags]online community for athletes, SportsGist social network, Total Sportz LLC[/tags]