Advertising Industry News, PR and eMarketing News
eNewsChannels NEWS: (TORRANCE, Calif.) -- Neotrope, a 33-year-old brand marketing, PR, and content development firm, today announced the launch of its 2017 annual Non-Profit PR Grants program for U.S.-based 501(c)(3) charities. Launched in 2000, the PR Grant(TM) was designed to help raise awareness of selected charities to traditional media, to the public, as well as to potential "halo" sponsors and donors.
eNewsChannels NEWS: (LOS ANGELES, Calif.) -- Steve Comisar is not your average celebrity felon. Comisar is the only Hollywood actor on earth that is also a famous con man. With over 700K Twitter followers and over one million YouTube views, he is a social media phenom.
eNewsChannels NEWS: (NEW YORK, N.Y.) -- What types of advertising media, such as radio, television, and online ads, rose or fell in popularity in 2017? What are the main demographics advertisers target? Which moods and inflections are most sought after for resonance and persuasive power? To answer these questions, Voices.com has released their look at the media and advertising trends that will dominate over the next year.
eNewsChannels NEWS: (FREMONT, Calif.) -- Cogensia, LLC, the premier provider of breakthrough data-driven marketing strategies and solutions, has earned a spot in the 2016 edition of CIOReview's 20 Most Promising Data Integration Solution Providers. Headquartered in Schaumburg, Ill., Cogensia is a privately owned Marketing and Advertising company founded in 2002.
eNewsChannels NEWS: (HOUSTON, Texas) -- Whiteflash Inc., prominent e-tailer of ideal diamonds and designer engagement rings, announced today that they have just launched a state-of-the art mobile first website with all new functionality and look and feel. It is the most ambitious advancement in the company's 16 year history of cutting edge e-commerce.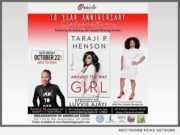 eNewsChannels NEWS: (WASHINGTON, D.C.) -- Literary PR & Marketing Firm, The Oracle Group International announces that in celebration of their 10th year in operation, they will host the Washington D.C. "Homecoming" book tour stop for Award Winning Actress and now Author Taraji P. Henson on Oct. 22, 2016.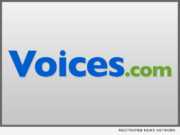 eNewsChannels NEWS: (SAN FRANCISCO, Calif.) -- The largest voice-over marketplace in the world, Voices.com, has announced the launch of an industry roadshow, set to take place across the United States this upcoming Spring 2017. The event is LevelUp - a fast, one-day information sharing event that will bring voice actors, coaches, and clients together like never before for a fast-paced day of workshops and networking. It kicks off March 18 in San Francisco.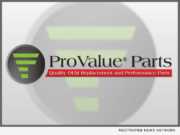 eNewsChannels NEWS: (SANFORD, Fla.) -- ProValue(R) Parts, a North American e-Commerce Replacement and Performance Aftermarket Auto Parts Store. today announced that the U.S. Patent and Trademark Office (USPTO) has granted the company registered trademark status and protection for its name ProValue Parts.
NEWS (NORTH BRUNSWICK, N.J.) -- Capacity LLC, trusted leader in order fulfillment, e-commerce, and electronic data interchange (EDI), has secured the intellectual property rights to its signature tagline, "fulfillment delivered.(R)" The company's trademark application was approved earlier this month, officially confirming what clients already know: Capacity is a modern order fulfillment partner in a sector that often clings to outdated practices.
NEWS (SAN FRANCISCO, Calif.) -- Kazzit, the wine industry's most all-inclusive online community, today announced the launch of a new, redesigned version of its website. Still 100 percent free to consumers, key features of the Kazzit site include a sleeker, more attractive design, a more engaging user experience with enhanced search and navigation, and a new mobile app.