African American Interest
Home
African American Interest
African American Interests News, including Black PR News, Urban, and People of Color
eNewsChannels NEWS: -- When Hawkins House of Burgers restaurateur Cynthia Hawkins found herself on the other end of a Caltrans state issued decree requiring the removal of part of their building, former Compton resident A.K. King, got wind of the dilemma via social media and reached out to Jay King, the CEO/President of the California Black Chamber of Commerce.
eNewsChannels NEWS: -- Worldwide Battle of The Rappers Inc. has brought together some of battle raps lyrical geniuses to help one lucky winner's dream come true in winning the first annual Worldwide Battle of The Rappers Tournament. Contestants will have the opportunity starting June 1, 2021 to register under one of 10 leading battle rappers in the game to guide them to the Grand Finale as their Team Captain.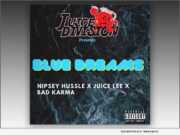 eNewsChannels NEWS: -- "Blue Dreams," which is the latest release from Nipsey Hussle by independent record label Juice Division Records is arguably the best posthumous verse from the Nipsey Hussle vault yet.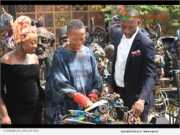 eNewsChannels NEWS: -- Pioneering London-based ForeMedia Group Plc (an international company well known for its top-rated extensive media and entertainment operations in Nigeria and United Kingdom, along with delivering Afro-centric media and entertainment to audiences worldwide), is delighted to announce that it is building the first digital ecosystem for talented entertainment creators in sub-Saharan Africa.
eNewsChannels NEWS: -- After a 30-day call for entries, winners for the black album.mixtape. were announced during a virtual Block Party event. The black album. mixtape. is an initiative of Regina Taylor - the Golden Globe-winning actress, playwright, and activist - in partnership with Southern Methodist University's (SMU) Meadows School of the Arts.
eNewsChannels NEWS: -- Ms. Vianna C. Little, Visionary at Fresh Start Now Enterprise with Ms. Freddie C. Batchelor, A Systemic Change Catalyst at Enterprise of Destiny, two mission-driven women of color professional social enterprise business owners and developers, have come together to launch Project300(™)!
eNewsChannels NEWS: -- In an effort to bring attention to the onslaught of voter suppression laws and ignite public support for bills to restore protections of the 1965 Voting Rights Act, the Georgia Coalition for the Peoples' Agenda (Peoples' Agenda) will join local and national partners to host Votercades, teach-ins and other events throughout the state on John Lewis Voting Rights Day of Action, 2 PM Saturday May 8, 2021.
eNewsChannels NEWS: -- Despite the ongoing efforts of many leaders to suppress the voices of Georgia residents, Black and Brown voters turned out in record numbers, electing the most diverse leadership in the state's history. The Georgia Coalition for the Peoples' Agenda's women's network, Georgia Black Women's Roundtable (BWR) recognized the historic leadership of local Black women.
eNewsChannels NEWS: -- After an introduction by U.S. Special Envoy for Climate John Kerry, environmental justice leader, Mustafa Santiago Ali, will discuss the Biden-Harris Administration's approach to climate justice with White House Advisor Gina McCarthy during a panel discussion at the day-long virtual BIPOC Climate Justice event, HBCU Green Fund announced.
eNewsChannels NEWS: -- The Association for Black Economic Power (ABEP) is reaffirming its commitment to bringing a black owned and operated Credit Union to North Minneapolis.