Home
Family and Parenting
Family, Babies, and Parenting News
eNewsChannels NEWS: -- Adam Swain Ferguson, founder, Purple Fox Entertainment, is a creative producer and author. His new book release, "Love Without Wings: An Adoption Fairytale" (ISBN: 979-8986768014), was inspired by a true story - his own story - and celebrates diverse families made complete through adoption. It's scheduled to be released during National Adoption Month on November 19, National Adoption Day.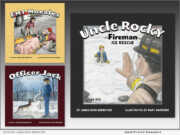 eNewsChannels NEWS: -- J2B Publishing announces the release of "Uncle Rocky - Fireman #10 - Ice Rescue" (ISBN: 978-1954682160), authored by James Burd Brewster. It's the 10th Uncle Rocky - Fireman book in the "Glad to do it!" children's series and is illustrated for kids aged 3-7. The series honors first responders by retelling true-life emergency response stories through the eyes of its characters: Uncle Rocky - Fireman, Officers Jack and Kate and EMT Morales.
eNewsChannels NEWS: -- BabyLiveAdvice, the leading virtual maternal telehealth provider, announced the completion of a $1.1 million seed investment led by Venn Ventures and Synergen Technology Labs. BabyLiveAdvice, founded by CEO Sigi Marmorstein, RN, PHN, MSN, FNP-BC, partners with healthcare providers and health systems to support coordinated, comprehensive prenatal, postpartum, and infant care.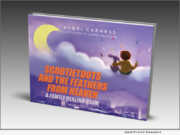 eNewsChannels NEWS: -- With an aim to help families begin to heal after the terrible loss of a child, "ScootieToots and the Feathers From Heaven: A Family Healing Book" (ISBN: 978-0228866862) by Audri B. Cabness is a whimsical children's story with a powerful message that offers families an uplifting vantage point, at any point in their healing process, from which they are given the opportunity to begin to pivot from despair to serenity.
eNewsChannels NEWS: -- PlantBaby, the innovative nutrition company developing a portfolio of the purest plant-based products to support the nutritional journey from infancy into adulthood, announces its $4 million Seed funding round, led by Big Idea Ventures and The Fund LA.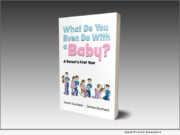 eNewsChannels NEWS: -- "What Do You Even Do With A Baby? A Parent's First Year" (ISBN: 978-0228869689) is a book aiming to demystify parenting so people can make well-informed decisions about becoming one. Authors Sarah and James Dunham struggled with the lack of a clear picture of what life would be like on the other side of the umbilical cord. "It doesn't get talked about openly."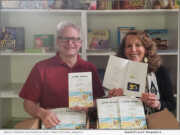 eNewsChannels NEWS: -- Paraphrase, LLC, the publisher of "Little Green" (ISBN: 978-0981587943) by Arnold Rudnick, is donating 500 copies of a special anniversary edition to Reading Is Fundamental of Southern California (RIFSoCal). For 10 years, "Little Green" has been asking, "Isn't it possible?"
eNewsChannels NEWS: -- Seven-year-old author, Sammy Wallace, will release his debut rhyming children's picture book, "I Slept in My Bed Last Night" (ISBN 979-8985784404; WF Publications), on May 2, 2022, in conjunction with Children's Book Week.
eNewsChannels NEWS: -- Children's book, "Bop-It and No More Covid" (ISBN 978-0228839965; paper), written by country prairie girl Jessica J. Wohlgemuth, looking to help children cope during the COVID-19 Pandemic. Are you tired of living the COVID life? Find hope and cheer in this little book about a fuzzy little grey bunny named Bop-It. Read about how he and his friends learn to cope through the pandemic, finding fun in the new normal.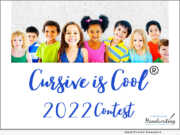 eNewsChannels NEWS: -- We are excited to announce that the USA Cursive is Cool® contest deadline has been extended until April 22, 2022. The contest is going on as usual this year after encouragement from teachers, parents, and students, announced the American Handwriting Analysis Foundation today, and the entries can now be submitted until April 22 to allow more students to participate.