Home
Family and Parenting
Family, Babies, and Parenting News
eNewsChannels NEWS: -- No greater concern exists in the current crisis of COVID-19 than for expectant mothers and their loved ones. The problem is two-fold, says BabyLiveAdvice. Women don't want to risk their health by exposing themselves and their unborn or newborn babies to the virus. And, even if they did try to seek outside support during these trying times, an overwhelmed healthcare system cannot meet the need.
eNewsChannels NEWS: -- Thousands of children every year are molested, used for pornography or otherwise sexually abused by teachers, coaches or other school employees - according to leading research, school employees sexually abuse one in ten students before the end of high school. New resources from Stop School Sexual Abuse (SSSA) help parents keep their kids safe.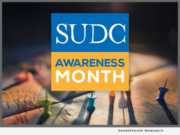 eNewsChannels NEWS: -- The Sudden Unexplained Death in Childhood (SUDC) Foundation thanks Alabama, Arkansas, Florida, Georgia, Hawaii, Illinois, Iowa, Louisiana, Massachusetts, Mississippi, New Hampshire, New York, North Carolina, North Dakota, Oklahoma, Pennsylvania, Rhode Island, South Carolina, Tennessee, Texas, Virginia, West Virginia for making statewide proclamations declaring March 2020 SUDC Awareness Month.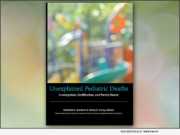 eNewsChannels NEWS: -- The SUDC Foundation recently published a first-of-its kind book, "Unexplained Pediatric Deaths: Investigation, Certification and Family Needs" (ISBN: 978-0998904320) a collaboration between the National Association of Medical Examiners (NAME) and the American Academy of Pediatrics (AAP), which establishes the first ever national consensus guidelines in the U.S. to fill crucial needs to determine why unexplained pediatric deaths happen and how to support families after these tragedies.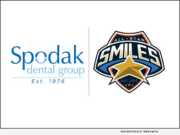 eNewsChannels NEWS: -- The Spodak Dental Group (SDG) is participating National Children's Dental Health Month with a goal to eradicate childhood tooth decay. SDG is partnering with All-Star Smiles Foundation, a non-profit organization with a mission to create a unique experience with an alliance of dentists, athletes and community partners.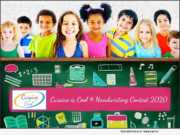 eNewsChannels NEWS: -- For some it is a "secret code," for others it is simply cursive handwriting. The annual Cursive is Cool contests kick off on National Handwriting Day, celebrated around the world on Jan. 23 each year in honor of John Hancock's birthday, the American Handwriting Analysis Foundation announced today.
eNewsChannels NEWS: -- BabyLiveAdvice, Inc., a Los Angeles-based, woman-owned social enterprise, supports pregnant moms and parents from preconception through early childhood via telehealth, phone and chat. The company's mission is to help one million moms and their babies to be happy and healthy.
eNewsChannels NEWS: -- Two students will be enjoying a dream Christmas, the Foundation for Ensuring Access and Equity announced today. On December 1, Grayson High School senior, Bre'an Moore, received a congratulatory email from Carleton College, ranked #7 on the 2020 US News and World Reports Liberal Arts College Rankings, offering her admission and a scholarship valued at over $280,000 over 4 years.
eNewsChannels NEWS: -- Although many parents enroll their children in traditional daycare facilities and schools, there is a large gap when it comes to finding part-time childcare for working parents, stay-at-home moms, and after hours. Giggles Drop-In Daycare addresses those needs and is excited to announce the opening of their Charlotte location in the Ballantyne neighborhood on December 29, 2019.
eNewsChannels NEWS: -- The Whole Child, a lead housing agency for families experiencing homelessness in Southeast Los Angeles County, announced that it has been selected to receive a $5 million grant from the Bezos Day One Families Fund.