Home
Family and Parenting
Family, Babies, and Parenting News
eNewsChannels NEWS: -- Two students will be enjoying a dream Christmas, the Foundation for Ensuring Access and Equity announced today. On December 1, Grayson High School senior, Bre'an Moore, received a congratulatory email from Carleton College, ranked #7 on the 2020 US News and World Reports Liberal Arts College Rankings, offering her admission and a scholarship valued at over $280,000 over 4 years.
eNewsChannels NEWS: -- Although many parents enroll their children in traditional daycare facilities and schools, there is a large gap when it comes to finding part-time childcare for working parents, stay-at-home moms, and after hours. Giggles Drop-In Daycare addresses those needs and is excited to announce the opening of their Charlotte location in the Ballantyne neighborhood on December 29, 2019.
eNewsChannels NEWS: -- The Whole Child, a lead housing agency for families experiencing homelessness in Southeast Los Angeles County, announced that it has been selected to receive a $5 million grant from the Bezos Day One Families Fund.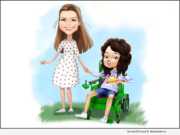 eNewsChannels NEWS: -- It is not a secret that young kids are very impressionable, and what they see on children's media will most likely make a big impact on how they will see and act out in the world, says author Natalie Gonchar. On October 24, Natalie's book, "Mr. Gringle's Magical Wheelchair" (ISBN: 978-1612543154), was released, and it is now on the shelves at Barnes & Noble stores across the U.S.
eNewsChannels NEWS: -- According to an independent study of the program's efficacy, Kids Read Now (KRN), a leading K-3 reading program designed to combat summer slide, completely negates summer reading losses for low-income students when fully implemented.
eNewsChannels NEWS: -- Pamela Barnett has not had it easy. While she describes her childhood as happy, her family was poor and there were periods of homelessness. Later on in life, she pre-maturely gave birth to twins, Parker and Abigail, who did not survive. However, it was these life events, and others, that served to provide strength rather than defeat.
eNewsChannels NEWS: -- Morrison Outdoors, just 7 months removed from their launch campaign on Kickstarter, have brought their line of Little Mo Baby Sleeping Bags to over 60 REI locations across the U.S.
eNewsChannels NEWS: -- Behavioral Innovations, a leading provider of center-based ABA therapy, today announced their newest center opening that will be located in Friendswood, Texas, a suburb of the Houston metro area. The growing need to provide access to early autism services is increasing as more children are being diagnosed with autism than ever before.
eNewsChannels NEWS: -- Melina fled her home to escape domestic violence to protect herself and her children. They had nowhere to go so they turned to The Whole Child. The non-profit welcomed their first families into residence at the Safe Families Interim Housing Program the first week in September.
eNewsChannels NEWS: -- Over the last few decades, United States Drug Testing Laboratories, Inc. (USDTL), has been quietly making a huge impact on the lives of some of the most vulnerable Neonatal Intensive Care Unit (NICU) patients, newborns exposed to substances of abuse during gestation. Today USDTL announced that they are the first laboratory in the world to commercially offer newborn fentanyl testing in both meconium and umbilical cord tissue specimens.