General Editorial News, Human Interest, and Lifestyle Feature Stories
eNewsChannels NEWS: -- Individuals who are living with a terminal illness and the people who love them can now deeply transform their shared experience of the dying process, thanks to a new book released today by author Melody LeBaron, "Transforming Death: Creating Sacred Space for the Dying" (ISBN: 978-1733477123).
eNewsChannels NEWS: -- "Through It All I'm Still Standing" (ISBN: 978-1735052519) is the first book from the talented writer and publisher Towanna Hogue as she shares her personal experiences surviving several challenges, including marriage, divorce, cancer, and starting over with readers worldwide.
eNewsChannels NEWS: -- The alluring beauty of classic automobiles is the subject of short videos by television camera-crane specialist Howard Heitner, launching as Classic Car Video. The series starts with heavyweights of classic car subculture: A rare '69 Corvette; and the celebrated '64.5 Original Mustang.
eNewsChannels NEWS: -- 2020 Mom has been awarded a significant multi-year capacity investment by the Perigee Fund, a philanthropic organization focused in supporting early parenting, so families can thrive.
eNewsChannels NEWS: -- That's exactly what Linda M. of Topeka, Kansas has done with My Life in Cards. Linda M. celebrated her 59th birthday in 2020 and has been collecting her personal greeting cards since she was 8 years old.
eNewsChannels NEWS: -- MAGLITE® is introducing a line of backpacks that meet the MAGLITE standard for performance and durability. The backpacks are "Manufactured in the U.S.A." The backpacks are made to the same standards as those provided to active duty service members of the U.S. military.
eNewsChannels NEWS: -- Most people currently face the pressing concern of how to move the needle from crisis to success during a global pandemic. "Three Sides of Every Crisis: Strategies to Sustain Business, Manage Your Career and Take Care of You" (ISBN: 978-0974999173) by Jewel Daniels offers a roadmap on how to pivot during an international economic tsunami.
eNewsChannels NEWS: -- Crawford Entertainment, producers of the television series "Flip My Florida Yard" are currently searching for Florida homeowners and their family members to be on the show and have a portion of their yard replaced with a Florida-Friendly landscape.
eNewsChannels NEWS: -- A lot has changed for the summer of 2020, but the Colorado Optometric Association and 2020 Eyes Colorado wants everyone to know that summer eye health is still important. Colorado's sunlight is roughly 20% brighter than at sea level and is even more intense at the top of a mountain as there is less atmosphere at higher elevations to filter out UV rays.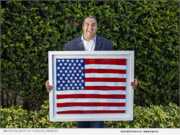 eNewsChannels NEWS: -- As our country faces a pandemic and signs of a nation divided, the need for hope and happiness is greater than ever before. Renowned artist and proud American Mateo Blanco has seen these signs and is making a stand for unity through his art.