Home
Mergers and Acquisitions
Mergers and Acquisitions News (M&As) for Public and Private Companies
eNewsChannels NEWS: -- EPIC Holdings, Inc. (EPIC) announced today that it has agreed to acquire Pharmaceutical Strategies Group (PSG). The move incorporates the expertise and resources of the nation's largest independent pharmacy benefit consulting firm into EPIC's Employee Benefits Consulting practice.
eNewsChannels NEWS: -- Pulsar Global Solutions, a wholly owned subsidiary of Valentis, a defense and risk management firm, announces the acquisition of Blueshield Security and Investigations, LLC based in Warrenton, VA. The acquisition by Pulsar Global brings to realization the investigation unit of Valentis Security.
eNewsChannels NEWS: -- UniversalCIS, a market leader in technology and solutions to the mortgage industry, is pleased to announce the acquisition of mortgage technology provider SharperLending. The SharperLending transaction, which follows the merger of Universal Credit, CIS Credit Solutions, and Avantus, provides further enhancements to the technology platform for UniversalCIS.
eNewsChannels NEWS: -- Nocera, Inc. (OTC:NCRA) ("Company") today announced that it has formally signed Variable Interest Entity ("VIE") agreements with Xin Feng Construction Co. Ltd., (XFC) a Taiwan construction firm, and Shunda Feed Co., Ltd., (SFC) a Taiwan aquaculture feed firm resulting in 100% controlling interest in both companies.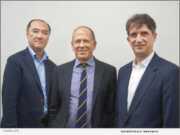 eNewsChannels NEWS: -- Fanplayr, a leader in online behavioral personalization, announced it has acquired Jamu Incorporated, a reseller and development firm based in Tokyo, Japan. The acquisition represents the fulfillment of a long-term relationship between Fanplayr and Jamu Inc.
eNewsChannels NEWS: -- Three Central Florida podiatric practices announced they have entered into a definitive merger agreement to create the new Modern Foot & Ankle®. The combined medical group will provide patients with additional board-certified physicians, a brand-new location, and the miniBunion™ system, a groundbreaking, minimally-invasive procedure for bunion correction.
eNewsChannels NEWS: -- PARAGON Wealth Strategies, a Fee-Only Registered Investment Advisor and comprehensive wealth management firm, has acquired Mellen Money Management - a fee only financial planning firm specializing in investment management and life-stages planning for growing families.
eNewsChannels NEWS: -- Galway Insurance Holdings ("Galway"), the holding company for EPIC Brokers & Consultants ("EPIC") and JenCap Holdings ("JenCap"), which together represent one of the nation's largest insurance distribution firms, announced today that it has signed a definitive agreement with vehicles controlled by Harvest Partners, LP and its affiliates ("Harvest") for a majority interest of Galway.
eNewsChannels NEWS: -- EGW Utilities, Inc. has acquired Buy Wholesale Company, LLC (BWC) of Montgomery, Texas. BWC was founded by Karl Knapp in 1985. He and his wife, Tracy, operated it until its acquisition on October 30, 2020. The procurement of BWC greatly increases EGW's waterworks and plumbing product offerings.
eNewsChannels NEWS: -- LoadDelivered Logistics, a leading food and beverage specialized third-party logistics (3PL) company, announced today that it is rebranding following its acquisition by Capstone Logistics. The company will now operate as Capstone Logistics' freight management solution.