Archaeology News
SAN CLEMENTE, Calif. -- The recent news of "Ardi," the oldest and most complete hominid skeleton yet discovered, continues to generate worldwide interest. LifeModeler,...
SEVERN, Md. -- Rosetta Classic, LLC is now offering commercially available, hand crafted replicas of the original Rosetta Stone to any interested entity or...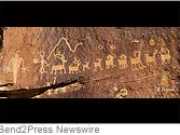 PRICE, Utah -- This year, Santa can't wait for Christmas. A small, but dedicated group of rock art preservationists in Utah - the Nine Mile Canyon Coalition and their allies - are fighting to preserve what may be the original Santa Claus. Nine Mile Canyon: Located high on the side of a sheer cliff in a rugged place in central Utah is an ancient petroglyph that dates back over 1,000 years.