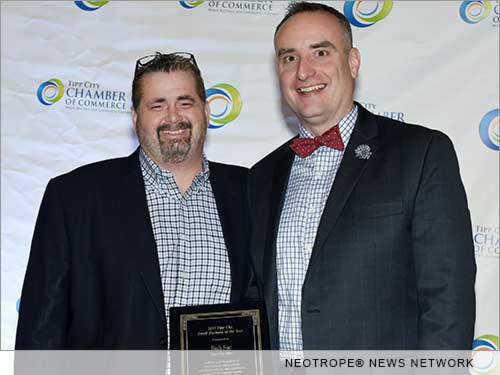 NEWS: On Dec. 2, 2015 Bash Foo was acknowledged by the Tipp City Chamber of Commerce as the 2015 Small Business of the Year at their annual Holiday Gala in Ohio. The awards program recognizes Tipp City-area companies and its leaders who have proven themselves in the business community.
"The companies recognized at our annual Holiday Gala are impressive businesses that are headquartered right here in Tipp City, Ohio. Bash Foo builds on their 16 years of success in aiding other small businesses just like themselves, to become successful and market themselves online," shared Liz Sonnanstine, Executive Director of the Tipp City Chamber of Commerce ( http://www.tippcitychamber.org/ ).
Bash Foo President Mike McDermott appreciated the recognition stating, "We are pleased to have been a member of the Tipp City business community for 16 years and are focused on continuing to build the online reputations of local small businesses throughout the United States through creative web development and online marketing strategies."
The Small Business of the Year award demands the following criteria: The business must be located in the Tipp City area (45371), must have been established and in operation for at least 3 years, must have made a contribution to the overall good of the community through employment, capital investment, philanthropy/ community involvement, aesthetic improvement, delivery of unique or specialized products or services, or recognition through significant business achievement. The Small Business of the Year must also employ less than 10 full-time employees.
"Tipp City has a ton of great small businesses that deserve recognition for their efforts, so to receive this award is certainly a great honor for us," shared McDermott. "It definitely recognizes the hard work and dedication of our growing team to develop small business websites and marketing strategies that truly deliver value for our clients."
Also during the evening gala, Bash Foo received special recognition from both the Ohio Senate and Ohio House of Representatives. Senator Bill Beagle (R – 5th District), and Representative Stephen Huffman (R – 80th District) recognized Bash Foo as "one of the area's most reputable enterprises" as well as for their "tenacity, cooperation, and civic concern."
The Small Business of the Year award, jointly presented by the Tipp City Chamber of Commerce and the City of Tipp City ( http://tippcityohio.gov/ ), was presented during a prestigious formal gala held at the Crystal Room in Troy that honors companies, businesses and community leaders from throughout the region who have out-shined their competitors while adding significant value to the area's economic development.
About Bash Foo:
Bash Foo was formed in 1999 as a digital marketing agency serving local small businesses seeking website design. Today, Bash Foo provides a wide array of digital agency services including web design, social media marketing, email campaigns, pay-per-click advertising, and a host of other value-added services to small businesses throughout the Midwest and across the country. Bash Foo – Creative Brand Provocateurs(TM).
Website: http://bashfoo.com/.
Twitter: @bashfoo
This version of news story is Copr. © 2015 eNewsChannels™ (www.enewschannels.com) and the Neotrope® News Network – all commercial and reprint rights reserved. Unauthorized reproduction in whole or in part without express permission is prohibited.