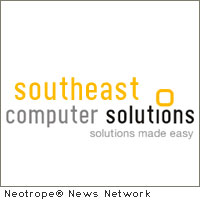 MIAMI, Fla. /eNewsChannels/ — Southeast Computer Solutions announced today that it was listed on Bob Scott's Insights Top 100 VARs. The ranking of the Top 100 mid-market reselling firms is based on revenue for 2010. Southeast Computer Solutions specializes in manufacturing, distribution and warehouse management solutions in the U.S., Caribbean and Latin America.
"We are proud of our accomplishments in 2010 and have invested in making 2011 a growth year for the business," said Sonia Ferrera, president of Southeast Computer Solutions. "Our team is the reason for our success and we have doubled it with the hiring of additional bi-lingual technology specialists, implementers, and solution consultants. We are able to offer our customers fast implementations that are facilitated by eliminating language and cultural challenges and based on sound, proven solutions."
In addition to increasing the number of technology, solution and implementation staff, earlier in the year, Southeast Computer Solutions developed and released Payables Retention Management (PRM) module to complement Sage ERP MAS 500 for Latin American companies.
"We are able to offer businesses a powerful ERP solution that is both U.S. GAAP-compliant and addresses local taxation processes and regulations," said Ferrera. "Typically, this business arrangement requires manual data manipulation on spreadsheets or interfaces between systems in order for the U.S.-based company to prepare consolidated financials. With PRM and Sage ERP MAS 500 businesses with operations in the United States and abroad can automate both."
Southeast Computer Solutions has been an IT consulting firm and Sage Authorized Reseller since 1985. In addition to being recognized on Bob Scott's Insights Top 100 VARS, Southeast Computer Solutions was also named to Accounting Technology's VAR 100 list in 2010.
Headquartered in Miami, Southeast sells, implements, customizes and supports Sage ERP MAS 500, Sage ERP MAS 90 and MAS 200, Sage CRM SalesLogix, Sage Accpac, Sage Abra HRMS, and Sage Add-Ons. With over 600 installations across the United States, Caribbean and Latin America, Southeast Computer Solutions (www.southeastcomputers.com) is the largest Sage reseller in Miami.
Copyright © 2011 Neotrope® News Network – all rights reserved.