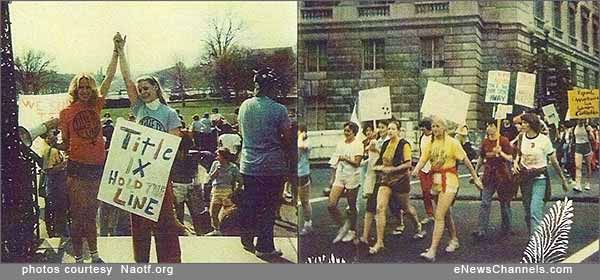 OPINION: Leading the March down Washington's Pennsylvania Ave in 1977, for TITLE IX's "Equal Opportunity for Women in School Sports and Education," at the request of the PE teachers of America, I had no idea of its phenomenal far-reaching effect. At June's Rio+20's Earth Summit, women sports, thanks to its "Empowering Women," took a central role in achieving a sustainable world, according to the UN and Secretary of State Hillary Clinton. And anything that helps the world be more sustainable is critical to the longevity of our beloved snow sports and coastal cities, in the face of Climate Change, previewed by Hurricane Sandy's surges.
PHOTO CAPTION: Olympic skier Suzy "Chapstick" Chaffee, who led the 1977 Title IX March in DC at the request of the PE Teachers of America, celebrating this team effort with her Olympic mom Stevia. Photos courtesy Naotf.org.
Therefore, it is so important to know what our two Presidential Candidates stand for. Despite putting on the Utah Olympics, Romney has promised to repeal, overturn or dismantle TITLE IX, since it is connected with Row V Wade's 'Right to Choose.' Whereas President Obama has promised to protect TITLE IX, as well as the Lilly Ledbetter Fair Pay Law he signed, (that Paul Ryan vetoed), and this October he became the first President of any country to tackle international girl sex slavery.
TITLE IX has also been a boon for the US sports industries, especially skiing, since moms who fall in love with skiing like mine did, not only help create Olympians, but studies show that they decide where their families go on vacations. Therefore, protecting Title IX and girls' ski opportunities are priceless to states like Colorado, whose economy and 64,000 jobs depend on snow sports tourism.
Here are other ways that TITLE IX and girl empowerment increases sustainability. Studies have proven that investing in girls' education and sports also improves the health of families, delays pregnancy, reduces population, and transforms communities and countries from poverty to productivity. Therefore, at President Obama's urging, the UN General Assembly on October 11 launched the international 'Day of the Girl' with 100 other countries.
Thanks to "Girl Empowerment" funding from USAID and Equal Futures, countries like Afghanistan can bridge the gap between girls being 18 percent literate compared to 50 percent for boys. And empowered moms naturally want to prevent wars to protect their children, especially since wars greatly heat up and contaminate the planet, eat up our resources needed for families and communities, and put countries like ours into huge debt, while the 1% get richer.
The global initiative is modeled after the success of Title IX. What broke the glass ceiling for our top U.S. 100 women pioneers in government and business in the early 70's, was sports and dance. Title IX enforcement then gave most American girls increased sports and education opportunities, saving taxpayers untold healthcare and welfare costs.
What motivated me to jump at a chance to lead the TITLE IX March, along with my Olympic mom Stevia who gave me the gift of skiing in Vermont's Green mountains, was my wake-up call in 1964 at Denver University. I picked DU since it was in the Rocky Mt Ski Mecca, and my (later Olympic) brother Rick was part of their invincible Ski Team. His coach Willy Schaeffler had promised me training as one of the top skiers in America. I enjoyed their dry land training where I carried guys up the stadium steps, but when it came time for on-snow training at Evergreen Ski Area, an hour away, I couldn't ride in the team car because I learned I didn't have NCAA insurance because I couldn't (biologically) pass the male physical. Since there were no sports scholarships for girls back then, my family couldn't afford a car so I had to hitchhike.
In 2009, when I was being inducted into Colorado Sportswomen's Hall of Fame in Denver, thanks to Susie Wargin, host of Channel 9 News, I realized the discrimination that women like me faced in sports actually strengthened and made us mad enough to fight for each other and work with U.S. and world leaders, to be able to enjoy our awesome sports.
At the end of our 1977 March where I joined about a hundred valiant women sports pioneers in passing by the White House and ending up in a rally on the steps of the Capitol, which made the news, I realized that in unity we had amassed some power. So I immediately called the White House to make a demand, and found Vice President Mondale (under Carter) receptive to host the first meeting to finally get the 1972 Law enforced.
Carol Oglesby, President of PE Teachers of America, who asked me to lead the March, was ecstatic, as were others inspired by similar rude awakenings, my friends Billy Jean King (Cherokee) and Olympic swimmer Donna deVarona. Joining us at the White House meeting with VP Mondale and the head of HEW, were Billy Jean's lawyers who became the TITLE IX strong arm of the WomenSports Foundation (WSF), graciously seeded by Colgate's CEO David Foster.
Therefore, on this 40th Anniversary of TITLE IX, it was so heart-warming watching American girls and women shining so brightly in London, the granddaughters of our pioneering generation. Yet after all this evolutionary progress for the U.S. and humanity, TITLE IX is now in jeopardy in this election since it is tied to the important "women's right to choose." President Obama wisely acknowledges that women, not male politicians, know best.
To continue to protect your daughter's rights to a healthy happy life, this generation of sports moms, including the newly evolved dads, need to know what it took to win these rights in case they need to fight to get them back, though it will be another set of players. Since you will see it was no small feat, hopefully you see it would be infinitely easier to vote for the candidate who has promised to strongly protect Title IX, instead of dismantling it and subjecting it to huge budget cuts.
After the 1977 March, I learned while skiing with Senator Bayh, the visionary author of Title IX, and Mark Fleischman, owner of Vermont's Mt Snow, where I was director of skiing, that the White House and WSF's lawyers alone were not enough to take on the National Collegiate Athletic establishment, led by the Walter Buyers. I told Birch that I had asked Buyers, "What would be a reasonable percentage of the men's budget for the women since it was still 1% after five years," and he replied, "1% is just fine." Birch then urged me to get the support of the Congressional heavyweight, his ski friend Senator Ted Kennedy, whose life Birch saved in an airplane crash.
As the first woman on the board of the US Olympic Committee, I had skied with President Ford at Vail in 1976, and solved problems with the Amateur Sport Act on our chairlift talks. Inspired by my activism, Ford's ad guy Jim Jordan had dreamed up the "Suzy Chapstick" campaign, the first fun fitness commercials in the US. So, on a chairlift in Aspen I reasoned with Senator Kennedy that "as Chairman of the Senate Health Committee you should support TITLE IX since women are key to getting the whole family healthy." Given his sporty sisters and Jackie, that made sense to him. Also that "the right to sport is the right to health and developing our full potential." Most people didn't know until Ted's funeral about his influence, but he blessedly went to bat for all American women by putting TITLE IX under his wing for almost four decades, including restoring our Law after President Reagan got the Supreme Court to overturn it. A decade later after Ethel's ski race in Aspen, Ted honored me for my guidance at a closed gathering with 30 Kennedy kids.
TITLE IX needs to be protected by each administration. Therefore, while serving on Reagan's Council on Physical Fitness, I found the guts to approach his Vice President, George Bush Sr., about TITLE IX. He seemed more enlightened since he played tennis at the White House with top women players, yet I found myself in a heated debate. But to my surprise, at our next council meeting VP Bush apologized and said, "I found out you were right," then throughout his administration he protected TITLE IX, and girls/women and families continued to prosper.
Thanks to Betty Ford we learned that alcoholism and prescription drugs were a closet epidemic among American women up until TITLE IX was enforced because girls didn't have many fun wholesome outlets to get naturally high through sports, which also leads to depression. So we deeply thank Betty for shining a light on this missing link and these enlightened Washington jocks and many ski area owners, including the late NSAA President Frank Schneider, for putting these birthrights for girls and families under their wings all these decades.
Special thanks to the late great visionary, Gene Mulvihill, owner of (green leader) Mt Creek Ski area in NJ, where I was also director of skiing, for giving our Native American Olympic Team Foundation NAOTF.org), a hand that resulted in our recent progress to help maximize the longevity of snow sports.
Also key has been the amazing teamwork of these women sports stars and sports moms, such as the famous soccer and hockey moms, and all coaches and teachers who stood up and fought for their rights. This team effort resulted in the school sports and education budgets increasing from 1% in 1977, to nearly equal today. That led to President Obama, who was raised by a single mom, to get Ledbetter's Fair Pay Act passed.
HAIL TO THE PIONEERS OF WOMEN'S EMPOWERMENT
Native American women were actually the first champions of Women's empowerment. I learned this in 1977, when Donna deVarona and I joined First Ladies Johnson, Carter and Ford in running with the torch into the Houston Astrodome to finish the 2,000 mile Women's Relay for "Women's International Year."
The run started in NY's Seneca Falls, birthplace of the Suffragettes, like Susan B. Anthony, who was first adopted by Seneca Clan Mothers. Their love for sports over the eons developed their wisdom to train and choose (and if necessary remove) the great Chiefs. This high level of collective intelligence resulted in the first equalitarian democracy now "spring-ing" up worldwide! Another secret to their Iroquois Confederacy's 1,000 years of Peace was Native women helping invent the first team sports in the U.S. to solve conflicts, as well as for healing and visions.
WHO WOULD OTHER COUNTRIES WANT US TO ELECT AS PRESIDENT?
Working with the U.N., I learned that the US has been considered a ball and chain holding back other countries in taking emergency measures to slow down Climate Change, which Obama has scrambled to turn around. Romney is in denial of Global Warming, despite the worst storm in history, which puts our National and Global Security, and snow sports, at super risk.
Therefore, October 28, according to a BBC World Service poll, 21 countries said they want Obama to be President, except for Pakistan, which preferred Romney. That says it all. They liked Obama's environmental, Peace, and global "Girl Empowering" policies. That means we can solve world conflicts through diplomacy, instead of increasing our war budget under Romney, by following the advice of many retired U.S. military leaders, and direct part of our defense budget, (which is bigger than that of the top 10 countries combined), toward emergency mobilization of FEMA, safe renewable energy, green jobs, helping reforest the planet and making the Arctic a Sanctuary (led by Redford) to give the World's Youth "Climate Justice." That is why most children are counting on us to vote for Obama.
If we want to continue to lift U.S. Women and families and protect our four decades of women's rights progress through TITLE IX, which Romney has promised to overturn, then our daughters need us to vote for Obama. If we want to continue to empower all girls globally to transform poverty into joyful sustainable productivity, we need the man who led this. We need a President who will be there for all the people, not just for the 1%, especially to help diminish more expected catastrophic earth changes like Hurricane Sandy. Therefore, if we want to join 21 countries to prolong snow sports and our coastal cities as long as possible and restore Eden, we need to help get this message out far and wide to vote for our compassionate President, Barack Obama.
Article is Copr. © 2012 by Suzy Chaffee, and originally published on eNewsChannels.com – all commercial and reprint rights reserved. Contact: suzynativevoices@aol.com, 323-4933877. Snow-riders.org.