Home
Tags
Brian Gavin Diamonds
Tag: Brian Gavin Diamonds
HOUSTON, Texas /eNewsChannels/ -- NEWS: Renowned international jeweler, Brian Gavin Diamonds, introduces its newest luxury collection, Brian Gavin Yellow(TM), a line featuring certified fancy yellow diamonds set in left or right hand ring settings. These beautiful diamonds are set in platinum, 18K white gold or 14K white gold.
HOUSTON, Texas /eNewsChannels/ -- Widely respected Houston jeweler/diamond cutter Brian Gavin and his company, Brian Gavin Diamonds, have announced the addition of a unique line of masterfully crafted diamond jewelry: The Coronet Solitaire Collection. The collection, which brings the classic look of the ever-popular solitaire diamond to today's sophisticated, fashion-forward woman, is designed to make this timeless diamond style eminently attainable by women everywhere.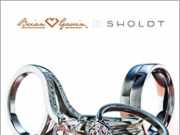 HOUSTON, Texas /eNewsChannels/ -- As a native of South Africa, one of the premier diamond capitals of the world, Brian Gavin has extensive experience in the diamond jewelry industry. In an effort to expand his selection of fine diamond engagement rings, wedding bands and men's bands, Brian Gavin has partnered with Sholdt, a jewelry design house based in Seattle, Wash.
HOUSTON, Texas /eNewsChannels/ -- Brian Gavin Diamond's Signature diamonds and jewelry creations are now more readily accessible to customers looking for financing online through a partnership with Credex. According to Brian Gavin, 'We have collaborated with Credex, working with state of the art technology to bring this great option to our customers. As has been the case with other innovative ideas, others are sure to follow.'
HOUSTON, Texas /eNewsChannels/ -- The name of Brian Gavin is known by diamond specialists far and wide. His company's creative take on diamonds paved the way for the introduction of several innovative interpretations of this precious gemstone by implementing his specialized Princess, Hearts and Arrows and Quadex cuts.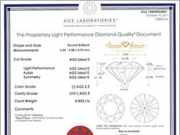 HOUSTON, Texas /eNewsChannels/ -- Brian Gavin scores another first with the introduction of the customized American Gem Society (AGS) Proprietary Light Performance Diamond Quality Document for his Signature diamonds. The AGS Proprietary Light Performance Diamond Quality Document provides the most technologically advanced, scientifically rigorous and independently vetted cut grade system in the industry as well as the customization to complement the Brian Gavin Signature product lines.
HOUSTON, Texas /eNewsChannels/ -- With the debut of his 'A Cut Above' Hearts and Arrows diamonds in 1998, Brian Gavin has been creating new and interesting diamond designs for over fifteen years. With cuts like his Signature Princess and 'Brian Gavin Blue' diamonds, he has set the bar high for the competition. Now, Brian Gavin Diamonds, is releasing their newest super ideal cut: the QUADEX.
HOUSTON, Texas /eNewsChannels/ -- After releasing a mobile app on the iPhone, iPod and iPad, Brian Gavin Diamonds has set its sights on expanding its mobile horizons even further. Due to popular demand, Brian Gavin Diamonds is the first online diamond and jewelry company to bring a mobile app to the Android market.
HOUSTON, Texas /eNewsChannels/ -- Brian Gavin, a fifth generation diamond cutter and expert who literally grew up amongst diamonds and worked in his family's diamond factory in South Africa, proudly announces the release of a mobile device application (app) that intimately connects mobile users with Brian Gavin Diamonds.
HOUSTON, Texas /eNewsChannels/ -- Brian Gavin Diamonds announced today the launch of its 'Diamonds in Your FACEbook Sweepstakes' as part of its ongoing efforts to embrace social networking and reach out to new friends, current customers and fans online through social media.