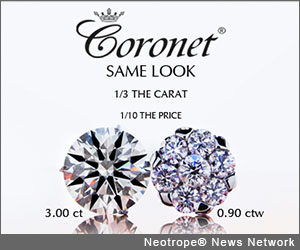 HOUSTON, Texas /eNewsChannels/ — Widely respected Houston jeweler/diamond cutter Brian Gavin and his company, Brian Gavin Diamonds, have announced the addition of a unique line of masterfully crafted diamond jewelry: The Coronet Solitaire Collection. The collection, which brings the classic look of the ever-popular solitaire diamond to today's sophisticated, fashion-forward woman, is designed to make this timeless diamond style eminently attainable by women everywhere.
According to Brian Gavin, "By seamlessly arranging seven smaller diamonds into a classic solitaire configuration and precisely setting them in a variety of jewelry pieces The Coronet Solitaire Collection has ingeniously recreated the luxurious look and stunning appeal of higher-priced solitaire jewelry, bringing the prestige of owning a finely cut solitaire into the realm of possibility for a growing number of discriminating women."
The Coronet Solitaire Collection, available for the first time online at Brian Gavin Diamonds, boasts three captivating collections, an array that's carefully designed to offer something enticing for every level of adornment:
* The Standards Collection transforms everyday fashion into a smart, stylish look, no matter what the occasion.
* The Stone Chic Collection arms the cosmopolitan woman to create the look that defies tradition and transcends convention.
* The Commitment Collection offers a captivating way to express the beauty and intimacy of a blossoming romantic union.
The Coronet Solitaire diamond jewelry line, offered for the first time on the internet by Brian Gavin, is expected to open new vistas of esthetic freedom to women all over the world by making fine diamond jewelry more affordable.
For more information visit: www.briangavindiamonds.com/coronet-solitaire .
About Brian Gavin Diamonds:
Brian Gavin is a leading authority in the world of diamond cutting and design. Brian Gavin Diamonds combine old world knowledge with new age technology to provide buyers with precision-cut diamonds and magnificent custom jewelry. For more information and to purchase Gavin's signature diamond jewelry, visit www.briangavindiamonds.com/ or email info@briangavindiamonds.com; or call (866) 611-4465.
Copyright © 2012 Neotrope® News Network – all rights reserved.