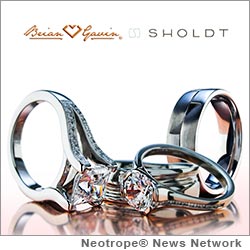 HOUSTON, Texas /eNewsChannels/ — As a native of South Africa, one of the premier diamond capitals of the world, Brian Gavin has extensive experience in the diamond jewelry industry. In an effort to expand his selection of fine diamond engagement rings, wedding bands and men's bands, Brian Gavin has partnered with Sholdt, a jewelry design house based in Seattle, Wash.
Sholdt has worked as a family-owned and operated boutique jewelry design and manufacturing workshop for over 75 years. Now, they'll be bringing this quality jewelry directly to consumers through Brian Gavin Diamonds.
Sholdt creates a stunning array of unique, contemporary diamond engagement rings, many of which will be available through Brian Gavin Diamonds. All of the settings are available in your choice of white gold, yellow gold, rose gold, palladium or platinum.
Brian Gavin Diamonds will also be offering a full line of men's gold, palladium and platinum wedding bands, available in an array of unique styles. The designs range from classic and sophisticated to modern and masculine, with thick bands ranging in width from 5 to 6.5mm. In addition, a variety of metal finishes, such as bright, brushed, sandblast, and "German finish," can be applied to any ring.
In honor of Labor Day Weekend, Brian Gavin Diamonds will be offering up to 10 percent off of any Brian Gavin Signature Round Hearts and Arrows Diamond to anyone who purchases a Sholdt engagement ring. This very-special promotion will only be running for 10 days, beginning on the Friday before Labor Day. This is an excellent way to celebrate the collaboration of Brian Gavin Diamonds and Sholdt, while obtaining an exclusive discount on a stunning piece of jewelry.
For more information visit: http://www.briangavindiamonds.com/diamond/special-offers/ .
About Brian Gavin Diamonds:
For years, Brian Gavin Diamonds has been offering an extensive selection of high-quality jewelry at competitive prices. With the incorporation of unique, contemporary engagement and wedding jewelry from Sholdt, that collection has now become even more extensive. For more information, please call 1 (866) 611-4465 or visit http://www.briangavindiamonds.com/ .
Copyright © 2012 Neotrope® News Network – all rights reserved.