Home
Tags
Construction and Building
Tag: Construction and Building
eNewsChannels NEWS: -- Garage Door Service and Repair Inc, a trusted garage door repair Houston company, believes that a garage and its door have an important role. The garage is not only designed for protection but also to make the house look attractive.
eNewsChannels NEWS: -- Heights Garage Door Repair Houston, a prominent provider of garage doors services, has recently opened its latest service center in Missouri City. Texas. The garage door repair Houston company has been enjoying a long journey in this industry and has received a lot of support from the local community in Houston.
eNewsChannels NEWS: -- Bernhard and ProStar Energy Solutions (ProStar) announced today an agreement with HealthTrust to offer Energy-as-a-Service solutions to member hospitals and health systems nationwide. The agreement offers HealthTrust members a comprehensive choice of services including engineering design, construction, operations and maintenance.
eNewsChannels NEWS: -- Home remodeling service is very needed and essential in certain conditions. For example, it is when the home looks old with damages here and there. Besides, it is necessary also to renovate it in case the owner wants it to look more beautiful. For homeowners who live in the area of San Jose, Calif., Quartz Construction Remodeling is a choice.
eNewsChannels NEWS: -- Texas Pros Garage Doors San Antonio, a major garage door repair San Antonio Texas services provider, is now offering rollers replacement services. With more than 10 years in this business, the company is popular among community for its premium services that it renders at highly competitive prices.
eNewsChannels NEWS: -- Installation, maintenance, and repair of garage doors can now be availed by the residents of San Antonio with a simple call to 1Choice Garage Door Repair. The helpline number listed on the company's website is available 24 hours a day and every day of the week.
eNewsChannels NEWS: -- Reliant Holdings Inc. (OTC: RELT) recently announced that it has recorded its best year yet in 2019. The past year has seen record-breaking revenues for the company, which has quickly grown into a construction conglomerate that offers comprehensive services in the residential construction realm, from design phases through to fine details post construction.
eNewsChannels NEWS: -- Drive down almost any suburban highway, and you will be greeted by a sea of sameness. McDonald's, Dunkin Donuts, Wells Fargo, Target, etc. You could be anywhere. But soon, when you drive into or fly over Evesham Township, however, you will be greeted by an embodiment of the township seal. Catalyst Experiential and Evesham Township worked together on the design.
eNewsChannels NEWS: -- Current Builders has introduced a new time-saving technique to build parking garages using a "column hung shoring system." The award-winning general contractor based in Florida, recently topped out their Aura Boca project.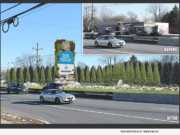 eNewsChannels NEWS: -- The Township of Pennsauken, New Jersey, in public private partnership with Catalyst Experiential, will bring some much needed green space back to the heavily commercial Pennsauken corridor in the form of two Community Landmarks, a Clocktower on Route 38 and a Monument on Marlton Pike. More than 70% of the land along Route 38 and 70 is zoned commercial, and commercial land can be 85% "impervious" - meaning concrete and asphalt as opposed to landscaping and greenery.