Home
Tags
Global Aid and Disaster Relief
Tag: Global Aid and Disaster Relief
eNewsChannels NEWS: -- Pacific Engineering Inc. (PEI) has joined forces with United Help Ukraine (UHU), Gaithersburg, MD to take a small, but critical step to provide much-needed care to Kharkiv's sick and wounded. PEI is honored to make a contribution to UHU by donating a truck-mounted Rapid On Demand - Portable Medical Platform (ROD-PMP™) to provide emergency medical assistance in Ukraine.
eNewsChannels NEWS: -- Seven years ago this month, a 7.8 magnitude earthquake devastated Nepal. A Scientology Volunteer Minister led rescue workers, Scouts and volunteers who arrived from across the world on a mission to save lives. Sharma acted as interpreter for Los Topos, the famous Mexican search and rescue team.
eNewsChannels NEWS: -- At an open house at the Church of Scientology Amsterdam earlier this month, held in commemoration of World Civil Defense Day, Volunteer Minister Jan-Maarten Kruijt introduced those attending to the Scientology Volunteer Ministers program. He shared how he and a Christian priest worked together to help Uganda communities overcome challenges and increase sustainability.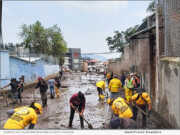 eNewsChannels NEWS: -- Scientology Volunteer Ministers from Ecuador are working with rescue workers and cleanup crews to help the city recover. The worst downpour in nearly two decades unleashed a landslide on Quito's La Gasca and La Comuna neighborhoods January 31 to February 1.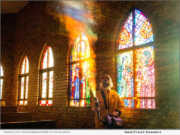 eNewsChannels NEWS: -- Scientology Churches are active and committed supporters of interfaith action and the right of all people to practice their own religious beliefs. This week is World Interfaith Harmony Week and the 2nd anniversary of International Day of Human Fraternity.
eNewsChannels NEWS: -- China Rescue Dogs, a leading American 501(c)(3) non-profit dog rescue, has been recognized for its efforts to save dogs from the Chinese meat trade. Over the past year, China Rescue Dogs has been rescuing and rehabilitating dogs from China and providing them with loving homes in the United States and Canada.
eNewsChannels NEWS: -- Scientology Volunteer Ministers came from across the country to help a town destroyed by the 10 December tornado celebrate the holiday. Santa, who drove to Mayfield from the Church of Scientology of Nashville, was not prepared for the kind of reactions he got.
eNewsChannels NEWS: -- Scientology Volunteer Ministers headquarters in Los Angeles encourages trained Volunteer Ministers to respond to one of the most devastating U.S. tornado outbreaks on record. Entire towns were all but wiped off the map leaving thousands homeless.
eNewsChannels NEWS: -- 911fosterpets, a peer-to-peer online pet fostering platform, is seeking volunteers who can foster pets displaced by the recent monster tornado. In the aftermath of natural disasters, as people begin to piece their life back together, they often find their temporary relocation options don't include their beloved pets.
eNewsChannels NEWS: -- In celebration of Human Rights Day 2021, the Church of Scientology International shares the story of brother and sister team Sandra and Felipe Poveda who inspired a culture of human rights in one of the most violent regions on Earth. Their story unfolds on "Voices for Humanity," featured on the Scientology Network.