Home
Tags
Regional Events
Tag: Regional Events
eNewsChannels NEWS: -- Registration is now open for the Southeast's premier digital marketing event, #SoundBoardEvent 2019. Held in Athens, Georgia at The Foundry, Soundboard is open to agency and in-house marketers, entrepreneurs, and business owners of all skill levels and backgrounds seeking to better understand and leverage a rapidly-changing digital media landscape and grow their businesses more effectively.
eNewsChannels NEWS: -- Lower Extremity Fellows, Residents and Young Surgeons from leading US Orthopaedic and Podiatric Surgery Centers and Hospitals will attend the 2nd annual Lower Extremity IEP Fellows & Young Surgeons' Course, to be held in Denver, Colo., May 3 - 5, 2019, Magnifi Group announced today.
eNewsChannels NEWS: -- Casita Maria Center for Arts & Education is proud to present College & Career Expo: Dream It & Be It! The College & Career Expo offers students a chance to learn about higher education and careers they might be interested in.
eNewsChannels NEWS: -- Casita Maria Center for Arts & Education, in partnership with Pregones Theater, is proud to present "We Have Ire," a free excerpt performance of the multi-disciplinary theater project, on March 9, 2019, 2 - 2:45 p.m. The performance combines spoken word and theater produced by Cuban-American writer, performer, Doris Duke; Artist and San Francisco resident Paul S. Flores.
eNewsChannels NEWS: -- IN CONCERT: Friday, February 8 - 8 p.m. - UCPAC's Hamilton Stage in Rahway, N.J. The group of people (over 100+ voices) that make up the powerhouse choir, JUBILATION, are a force in the industry.
eNewsChannels NEWS: -- Outvisible Theatre Company presents David Ives' award-winning "Venus in Fur" - running February 14 through March 3, 2019. "Venus" is a modern take on Leopold von Sacher-Masoch's "Venus in Furs," an 1870 novella which draws on themes of female dominance.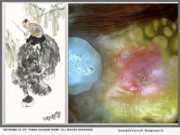 eNewsChannels NEWS: -- Rare Art, Inc. in Covina, California, announces the solo exhibition of Dr. Yuhua Shouzhi Wang, a noble international art master whose accomplishments has been appraised by the United States Congress and art scholars of world authorities, has been held world-wide - including China, San Francisco and currently in Thailand - in efforts to develop cultural exchange between the East and the West.
eNewsChannels NEWS: -- Stuttering stand-up comic Nina G will have the top spot at the Invisible Disabilities Comedy Show at the Sacramento Punch Line on Sunday, January 27 2019! Author of the forthcoming book "Stutterer Interrupted: The Comedian Who Almost Didn't Happen," Nina's comedy is funny, revealing, unapologetic, and always a window to her experience as a person who stutters. Through humor, Nina G is challenging now people think of stuttering.
eNewsChannels NEWS: -- Paws for the Holidays is a pet adoption event happening Saturday, December 15, 2018 from Noon to 3 p.m., exclusively at Volkswagen of Union, 2155 Route 22 West near the Flagship. The adoption event is being powered by three rescue groups: AHS Network, Cause 4 Paws and Forgotten Tails.
eNewsChannels NEWS: -- Professionals Guild today announced a Huge East Bay New Year's Eve Party for singles and couples at the San Ramon Marriott Grand Ballroom to welcome 2019. The party includes a live band, the Groove Doctors in the Grand Ballroom, DJ, Mike Westerman in a smaller ballroom, a big balloon drop at midnight and more.