Home
Tags
Regional Events
Tag: Regional Events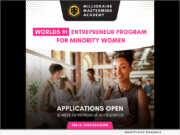 eNewsChannels NEWS: -- ThinkZILLA Consulting, announced its 15-week entrepreneur accelerator program for female minority entrepreneurs. The only firm that combines program management resources with extensive DE&I expertise, a network of thousands of minority-led business suppliers and full-service marketing capabilities, has expanded programming to combat poverty and support entrepreneurs in need of access.
eNewsChannels NEWS: -- Housing Finance Strategies President Faith Schwartz today announced that the firm will host its annual housing policy and technology event on September 26-27, 2022. The returning support of #HousingDC22 sponsors is notable and a testament to the quality of the event.
eNewsChannels NEWS: -- Light4America announced its "Fight Fire with Light" project begun November 20, 2021 to remember the January 6, 2021 attack on the U.S. Capitol with a citizen-led, nonpartisan, interfaith candlelight vigil the evening of January 6, 2022.
eNewsChannels NEWS: -- As 100,000 lights mark another holiday season and transform Saint Hill Castle and grounds into an enchanted kingdom, the Church of Scientology invites one and all to experience the magic of Saint hill in an episode of "Inside Scientology" on the Scientology Network.
eNewsChannels NEWS: -- Winter Wonderland has returned to downtown Clearwater, complete with Santa, rides, elves, and best of all, SNOW. The Church of Scientology invites visitors, no matter how far away, to experience the joy of the season on the Scientology Network with an episode on the woman who makes it all possible year after year in "Meet a Scientologist Pam Ryan-Anderson."
eNewsChannels NEWS: -- Professionals Guild announces an Elegant East Bay New Year's Eve Party for singles and couples at the San Ramon Marriott Hotel, Dec. 31, 2021. Includes a live band, Top Secret Variety Dance Band, in the Bishop Ranch Grand Ballroom.
eNewsChannels NEWS: -- The Philippine American Chamber of Commerce of Metro Washington DC (PACC-DC), in collaboration with Trainstation Philippines is spearheading a three-day virtual summit to promote health and wellness on December 1-3 at 6 p.m. EST entitled, "I FIL-AM POWERED." Says PACC-DC PRO, Olma Inocentes, "The title is a play at Fil-Am, short for Filipino-American, and empowerment because we believe that focusing on health and wellness promotes and supports personal growth, leading to self-empowerment."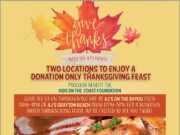 eNewsChannels NEWS: -- For the sixth year, AJ's on the Bayou, will host a free Thanksgiving Day meal from 11 a.m. till 4 p.m. Last year, the waterfront restaurant served close to 1,000 meals. "We open up our doors to everyone, to ensure that no one is alone or hungry for the holiday," says Keith Waters, Director of Operations for AJ's.
eNewsChannels NEWS: -- The Golden State Pops Orchestra announces director David E. Talbert, voice actor Bill Rogers, and singer Drew Tablak as special guests for the "Holiday POPS Spectacular" on Saturday, December 18, 2021 at 8 p.m. The concert will be held at the Warner Grand Theatre in San Pedro, Calif., and will include two world premieres: A musical suite from the movie "Jingle Jangle: A Christmas Journey," and a new work for narrator and orchestra based on music from the motion picture "Elf" titled "How Buddy the Elf Saved Christmas."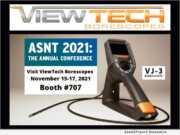 eNewsChannels NEWS: -- For the ninth consecutive year, ViewTech Borescopes continues to exhibit their line of video borescopes at The American Society for Nondestructive Testing (ASNT) Annual Conference. With the 2021 ASNT Annual Conference taking place in Phoenix, Arizona at the Phoenix Convention Center, ViewTech will be exhibiting at booth 707 from November 15 - 17, 2021.