Home
Tags
Regional Events
Tag: Regional Events
eNewsChannels NEWS: -- San Jacinto Mall is hosting a "Merry Last Christmas Event" on Saturday, December 14, 2019 from noon to 2 pm. The event will give shoppers an opportunity to celebrate 38 years of memories and to bid farewell to Baytown's once premier shopping center before it permanently closes its doors on January 5, 2020.
eNewsChannels NEWS: -- Christmas at Schnepf Farms is ushering in its inaugural season with a VIP/Media exclusive opening on November 26, 2019. A ribbon-cutting ceremony featuring local dignitaries and influencers will begin at 5:30 p.m. Post-ceremony, the farm will be open for all to experience the brand-new holiday wonderland until 10 p.m.
eNewsChannels NEWS: -- Paragon Gives, a Paragon BioTeck, Inc. initiative, announces their annual holiday event, "A Night to Remember," for the children and families of Eugene Pearl Buck Preschool and Family Supports Program. "A Night to Remember" is a fun and festive holiday event with this year's theme being a Christmas Carnival, which will bring a touch of holiday cheer.
eNewsChannels NEWS: -- Inspirational singer-songwriter, Wendy Katagi is joined by Grammy-nominated jazz pianist Tom Zink and Grammy-nominated vocalist Anne Walsh in a spirited "Joy to the World" concert with InnerVox jazz singers and cellist, Nancy Korb at Gardena Valley Baptist Church on Sunday, Nov. 24, 2019, 4:00-5:30 p.m.
eNewsChannels NEWS: -- Los Angeles is in for a massive infusion of harmonious ripples when "Soundwaves 360 Music Event" rolls on to the boulevard on Thursday, November 14 at the Academy LA. Party goers will be able to surf a kaleidoscope of genres with acts ranging from hip hop to rock. The evening, presented by Brandi Irwin Productions and G-Love Productions, will be flooded with talent.
eNewsChannels NEWS: -- Yair Shimansky will be exhibiting in the most prestige Art and Design event November 14-18 on the New York calendar, where a hand selected group of jewellery designers will showcase their unique design creations to the most sophisticated art collectors, jewellery lovers and galleries from around the world.
eNewsChannels NEWS: -- In an historic move, on Monday November 11, 2019 Veterans Day, Golfing for Families and Dorsey Academy of Entrepreneurs will hold its fourth annual charity event in Sun Valley at Angeles National Golf course. This year's event will be hosted by Celebrity Comedian / Producer Chris Spencer and friends.
eNewsChannels NEWS: -- The Gem Miner's Holiday, the Mid-Atlantic's premium bead, mineral, gem and jewelry show, from the Mid-Atlantic Gem and Mineral Association (MAGMA), will be hosting its 12th annual Fall show at the Lebanon Valley Expo Center, Nov. 16 and 17, 2019, 80 Rocherty Road, Lebanon, PA 17042.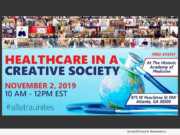 eNewsChannels NEWS: -- "GAME OF PROFESSIONALS. HEALTHCARE IN A CREATIVE SOCIETY" global event will be hosted on the platform of ALLATRA International Public Movement on November 2, 2019 at 10 a.m. ET.
eNewsChannels NEWS: -- The only international school in Northern New Jersey, Tessa International School celebrates diversity and prepares its students to be active citizens of our world. On Thursday, October 24, 2019 in Hoboken, New Jersey, Tessa International School will celebrate United Nations Day. United Nations Day acknowledges the UN Charter initially signed by 50 countries on October 24,1945 intending to achieve peace and justice.