SANTA FE, N.M. -- "Goliath Trembled: Confronting the Cabal" (ISBN: 978-1530268795), a page-turning thriller by author Christopher Murphy, challenges mainstream media, which he says is controlled by the "Corporate Goliath."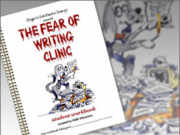 SANTA FE, N.M. /eNewsChannels/ -- NEWS: Dragon's Gate Creative Journeys, an experiential workshop service for writers led by Milli Thornton, author of 'Fear of Writing' (ISBN: 978-1591098188), announced today the third edition of the Fear of Writing Clinic Student Workbook. The workbook has been used since 2005 to help students at the Fear of Writing Clinic overcome deep-seated fears, allowing workshop participants to write more spontaneously and with less self-censure.
SANTA FE, N.M. /eNewsChannels/ -- Everyday Center for Spiritual Living (ECSL) is hosting its first OPEN HOUSE and Holistic Business Showcase on July 14, 2012 from 10 a.m. - 4 p.m. This amazing event called 'ECSL Alive!' will feature: live music, free food, lots of fun, surprises and prizes, activities, and vendor booths representing our local businesses and organizations.
SANTA FE, N.M. -- Does the brain you were born with have to be the brain you end up with? If you can improve the function of every major organ in the body, why can't you upgrade the function of your brain? Those fundamental questions were the motivation that led Kelly Howell to create Brain Sync.
SANTA FE, N.M. -- Are you feeling crushed by the economy and helpless to live your life in a satisfying way? You're not alone,...
SANTA FE, N.M. -- Most of us aren't sure how to stay strong in these challenging times, but research suggests that there's a great...