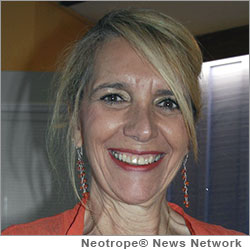 SANTA FE, N.M. /eNewsChannels/ — Everyday Center for Spiritual Living (ECSL) is hosting its first OPEN HOUSE and Holistic Business Showcase on July 14, 2012 from 10 a.m. – 4 p.m. This amazing event called "ECSL Alive!" will feature: live music, free food, lots of fun, surprises and prizes, activities, and vendor booths representing our local businesses and organizations. Come see what we are all about. We want to get to know you better.
"We have been in this community for almost 2 years now and have had a wonderful response," says Rev. Gayle Dillon, minister of Everyday Center for Spiritual Living. "This is just our way of giving something back to the community."
According to Gayle, Everyday Center for Spiritual Living was established in 2010 with 8 members and has grown to over 40 in attendance on Sundays. Other ministries of the church include a Music Ministry led by singer-songwriter Paul Dillon, a Ministry of Mirth led by Improv performer Patty Walters, many classes and events such as a Creative Writing Group, Improv classes; and Accredited Science of Mind classes such as "Beyond Limits, Igniting Your Life With Bible Wisdom," "Spiritual Practices: Treatment and Meditation" – just to name a few.
"We really love this community," says Gayle. "We have a huge vision for participating in and providing for the growth of individuals and families and want to say thank-you for the opportunity to serve."
EVENT INFO: ECSL ALIIVE!
Date: Saturday, July 14, 2012.
Time: Doors open at 10 a.m. and close at 4 p.m.
Cost: FREE!
Location: Everyday Center for Spiritual Living,
1380 Vegas Verdes, Santa Fe, NM 87505.
For more information about the Open House or any of the other ECSL programs phone Rev. Gayle Dillon at 505 629 9633 or visit their web-site at
Copyright © 2012 Neotrope® News Network – all rights reserved.