Note: Hold off on your rejoicing: Antonin Scalia is still alive. But since he is obviously brain-dead, we present this pre-eulogy. No moment of silence...
eNewsChannels BOOK SERIAL: "Secret Sex, A Book Alive Online," written and lived by John Scott G: Chapter 47 - "Say What?." Q: Do you understand...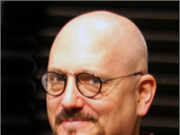 eNewsChannels COLUMN: Too many times, the use of words such as 'patriot' and 'patriotism' comes from a highly politicized place. The terms become part of campaign speeches or commercials. Let's examine some acts that can be accurately called patriotic.