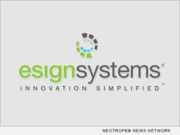 TUCSON, Ariz. /eNewsChannels/ -- NEWS: eSignSystems has announced that it will be holding a panel session at the Insurance Accounting and Systems Association's (IASA) 87th annual Education Conference and Business Show. The panel is entitled 'The Customer eExperience! Making it Seamless with eSignatures and eDelivery.' Brad Dupont of eSignSystems will be both moderating and speaking on the panel.
TUCSON, Ariz. /eNewsChannels/ -- NEWS: Kief-Joshua Vineyards asks: With Arizona's temperatures rocking a sweltering 100 plus degrees in the valleys, why not visit the state's Southern Wine Growing Region and jam out to a cool 85 degrees? Kief-Joshua Vineyards is once again hosting a summer concert series from Memorial Day through Labor Day. Musicians will be singing on the patio every Saturday from 1 to 4 p.m.
TUCSON, Ariz. /eNewsChannels/ -- NEWS Apr 12, 2013: Kief-Joshua Vineyards announces that the Second Annual Southeast Arizona Wine Growers Festival, featuring 18 Arizona Wineries in one location, is slated for April 20 and 21, 2013, from 11 a.m. to 5 p.m. at Kief-Joshua Vineyards in beautiful Elgin.