WASHINGTON, D.C. /eNewsChannels/ — Under Secretary of State for Political Affairs Bill Burns and Indian Ambassador to the United States H.E. Meera Shankar today signed the Arrangements and Procedures Pursuant to Article 6(iii) of the Agreement for Cooperation Concerning Peaceful Uses of Nuclear Energy regarding the reprocessing of U.S.-obligated nuclear material in India. Upon entry into force, the Arrangements and Procedures will enable reprocessing by India of United States-obligated nuclear material at a new national reprocessing facility to be established by India dedicated to the reprocessing of safeguarded nuclear material under International Atomic Energy Agency safeguards.
These Arrangements and Procedures will facilitate participation by United States firms in India's expanding civil nuclear energy sector.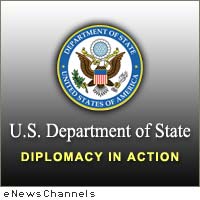 This arrangement, negotiated and concluded under President Obama, reflects the Administration's strong commitment to building successfully on the landmark U.S.-India Civil Nuclear Cooperation Initiative and is a prerequisite for U.S. nuclear fuel suppliers to conduct business with India. Previously, the United States had extended such reprocessing consent only to the European Union (EURATOM) and Japan.
The Civil Nuclear Cooperation Initiative has facilitated significant new commercial opportunities across India's multi-billion dollar nuclear energy market, including the designation of two nuclear reactor park sites for U.S. technology in the states of Andhra Pradesh and Gujarat.
Increased civil nuclear trade with India will create thousands of new jobs for the U.S. economy while helping India to meet its rising energy needs in an environmentally responsible way by reducing the growth of carbon emissions.