Solublon film is safe, environmentally friendly and biodegradable
VANCOUVER, B.C., Canada — Aicello today announced commercialization of a new water soluble film utilized in Reckitt Benckiser's Glass Plus(R) Dissolvable Refills. The Glass Plus(R) package is the first North American consumer application of refill pouches. It allows both cost and source reduction, while consumers will find price savings in a convenient, user friendly package.
The pouches are a liquid concentrate dropped into a spray bottle filled with tap water, dissolving completely and leaving no residue. The unique Solublon(R) water soluble film was developed especially for Glass Plus(R), offering clarity, cosmetic gloss, quick dissolution and consistent quality, while satisfying requirements in Reckitt Benckiser's specifications. The film itself is safe, environmentally friendly and biodegradable.
Aicello General Manager Takeshi Watanabe commented, "We took the initiative to meet the market needs. Standard matte films appear aged, but our clear glossy films look spotless and bring out the color depth."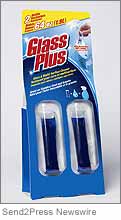 Though liquid filled water soluble pouches have been popular in Europe for many years for a wide variety of product types, North American consumer usage is only just beginning with a handful of products. "Conventional wisdom is that liquid filled soluble pouches are difficult, but the technology is available today to manufacture bags with a high level of package integrity," said Carlton Wong, National Sales Manager of Aicello North America.
Beyond the innovative packaging, refill pouches offset today's high energy costs, allowing reduction of environmental waste and shipping costs, while making better use of shelf space by replacing larger bottles.
Aicello's Solublon(R) PVA water soluble film technology opens the door to new soluble pouch types including powder, liquid, gel and tablet forms. The films can be processed on a wide variety of packaging equipment, and allows novel packaging concepts to be developed.
Additional information can be found at: http://www.solublon.com.
About Aicello
Aicello is a global leader in specialty packaging, manufacturing a diverse range of leading edge products with office locations in North America, Asia and Europe. Aicello actively researches emerging markets to pioneer new product types and solve tomorrow's most challenging issues today. Aicello products serve the semiconductor, automotive, food, medical, consumer and aerospace industries.
All trademarks acknowledged.
[tags]Aicello Solublon, PVA water soluble film, green packaging technology[/tags]