ARLINGTON HEIGHTS, Ill. — Affinity Healthcare LLC, a multi-specialty medical group practice with northwest Chicago suburban offices located in Arlington Heights, Buffalo Grove, and Wheeling, announces the addition of Chiropractic and Acupuncture healthcare services. Dr. Jason Y. Hui, DC, FIAMA, NMD, will treat patients by appointment at the Affinity Healthcare LLC office located at 1590 N. Arlington Heights Road, Arlington Heights, IL 60004, Tel: 847-797-1740.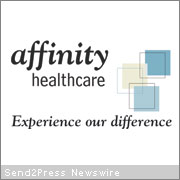 About Dr. Hui: Jason Y. Hui earned his Doctorate of Chiropractic from the National University of Health Sciences, Chicago. He also holds a Naturopathic Medical Physician Degree, a Board Certification in Acupuncture and is a Board Certified Nutritionist. He completed his undergraduate studies at the University of Windsor, Ontario, Canada, where he graduated with a major in Human Anatomy. He currently serves on the American Academy of Pain Management, is a Certified Golf Fitness Analyst for the PGA, a team chiropractor for the Illinois Side Out Volleyball Association, and continues to be a featured lecturer at many healthcare forums.
Free Chiropractic and Acupuncture Seminar
Affinity Healthcare LLC invites those interested in learning whether or not they may be a candidate for chiropractic or acupuncture treatment to attend the following seminar:
Date: Wednesday, March 18, 2009
Place: Highland Park Hospital Health & Fitness Center, 1501 Busch Parkway, Buffalo Grove, IL
Time: 5:30 p.m. – 7:00 p.m. (light dinner included).
Dr. Jason Y. Hui will explain the chiropractic and acupuncture approaches, types of conditions treated, and what patients can expect from these treatments. Attendees will take away from the program a better understanding of the role of the chiropractor in alleviating pain and stress, as well as maintaining overall well-being and health for their patients.
Pre-registration is required. You do not need to be an established Affinity Healthcare LLC patient. Email name(s) of person(s) who wish to attend, along with a return email address or phone number to confirm your registration to jspeckin@affinitydocs.com To register by phone, please call: 847-847-7457
For more information on all healthcare services offered by Affinity Healthcare LLC, visit our website: http://www.affinitydocs.com.
About Affinity Healthcare LLC:
Established in 2007, Affinity Healthcare LLC was created by the merger of the Northwest Chicago Suburban medical practices formerly named Greater Northwest Medical Group, North Suburban Internists, and Adult Care Specialists. Affinity Healthcare LLC offers Internal Medicine, Family Practice, Gastroenterology, Diagnostic Imaging, Physical Therapy, Chiropractic/Acupuncture Services, Nutritional Counseling, Podiatry, and Travel Medicine by appointment, and Immediate Care walk-in office visits at our 1051 W. Rand Road, Arlington Heights, IL location.
Affinity Healthcare LLC treats approximately 100,000 patients at offices located in Arlington Heights, Buffalo Grove, and Wheeling, IL. Our mission: To continuously evolve, applying leading edge innovation, and placing our patients' needs first and foremost at every level of Affinity Healthcare. We are dedicated to delivering unique, high quality, and convenient healthcare services based on our patient-focused approach.
[tags]Affinity Healthcare[/tags]