ARLINGTON HEIGHTS, Ill. — Affinity Healthcare LLC's diagnostic imaging practice located at 1051 W. Rand Road, Arlington Heights, IL was recently awarded accreditation for Computed Tomography (CT), as the result of a recent survey by the American College of Radiology (ACR). Affinity Imaging has also been awarded accreditation by the ACR for Nuclear Medicine and Magnetic Resonance Imaging (MRI). The ACR, headquartered in Reston, VA, awards accreditation to facilities for the achievement of high standards after a peer-review evaluation of the imaging practice.
Board-certified physicians and medical physicists, experts in the field of diagnostic imaging, assess the qualification of the personnel and adequacy of facility equipment. The surveyors report their finding to the ACR's Committee on Accreditation, which bases its decision on accreditation on the comprehensive report.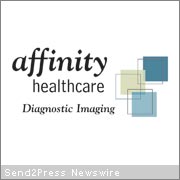 In May 2008, The Intersocietal Commission for the Accreditation of Echocardiograph Laboratories (ICAEL) recognized Affinity Imaging as an accredited site for ultrasound. ICAEL exists to ensure the quality of ultrasound facilities, their equipment, personnel and protocols.
According to Michael Hartke, CEO, Affinity Healthcare LLC, "Increasingly, these types of quality designations are becoming requirements for insurers both as a mark of quality and as a condition for reimbursement. We are very proud of these distinctions from the ACR and ICAEL. The entire staff of Affinity Imaging has worked very hard to achieve these accreditations."
For more information on the internal medicine, family practice, immediate care, physical therapy, and diagnostic imaging practices comprising Affinity Healthcare LLC, visit our website: http://www.affinitydocs.com. To arrange an interview, please contact: Jacqueline Speckin, Chief Marketing Officer, Affinity Healthcare LLC, Email: jspeckin@affinitydocs.com or phone: 847-847-7457, cell: 847-567-4575.
Established in 2002 (formerly named Rand Imaging Center), Affinity Healthcare LLC's diagnostic testing facility provides open MRI, CT, Nuclear Medicine, Ultrasound and X-Ray services. Approximately 25,000 diagnostic tests are performed annually. The center holds the award of Accreditation for its MRI, Nuclear Medicine, and CT services, from the American College of Radiology (ACR) and Ultrasound Accreditation from the Intersocietal Commission for the Accreditation of Echocardiograph Laboratories (ICAEL). Highly qualified and compassionate diagnostic imaging professionals are dedicated to providing patients with high quality, convenient, and comfortable diagnostic testing, using advanced technology that produces rapid and precise results.
[tags]Affinity Healthcare LLC, diagnostic imaging practice[/tags]