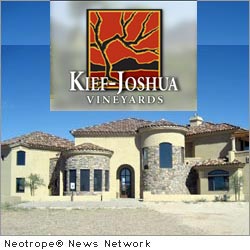 SONOITA, Ariz. /eNewsChannels/ — The first-ever Southeast Arizona Wine Growers Festival, featuring 17 Arizona Wineries in one location, is slated for April 14 and 15, from 11 a.m. to 5 p.m. at Kief-Joshua Vineyards in beautiful Elgin, Arizona. The day will be filled with new wine releases, fabulous winemakers, great food and live music!
"We are bringing together winemakers from every wine region within Arizona," states winemaker and host Kief Manning. "With the exception of the Phoenix wineries, all attendees have the common bond of growing grapes in Southeastern Arizona."
In addition to wine tasting, the expanded festival will include sensory wine tasting and wine pairing seminars. Buzz and the Soulsenders will be singing the blues, from noon to 5 p.m. Locally Arizona and Sonoita's very popular Steak-Out restaurant will be on site selling chicken wings, pulled pork sandwiches, sirloin steaks and much more for your enjoyment. The food dishes will cost $8 to $10.
FEATURED WINERIES INCLUDE:
From the Sedona, Verde Valley and Cottonwood Region: Arizona Stronghold, Page Spring Cellars, Jerome Winery and Dribble Creek.
From the Urban Wine Region: Kokopelli and Su Vino Wineries.
From the Willcox Country: Keeling Schaefer Vineyards, Golden Rule Vineyards, Coronado Vineyards, Carlson Creek Vineyards, Zarpara Vineyards, Gallifant Cellars, Pillsbury Wine Company, and Lawrence Dunham Vineyards.
From Sonoita: Charron Vineyards, Wilhelm Family Vineyards and Kief-Joshua.
Tickets are on sale now or can be purchased the day of the event. The cost of $15 per person includes wine tasting and a souvenir glass. Gates will open at 10 a.m. For more information or to order tickets, visit www.kj-vineyards.com or call 520-455-5582.
The tasting room at Kief-Joshua Vineyards is open seven days a week and is located at 370 Elgin Road, Elgin, AZ.
From Phoenix or Tucson: From Highway 10, take exit #281 – Rte 83 to Sonoita. Stay on 83 until you come to Elgin Road (mile marker 28) and turn left. Kief-Joshua Vineyards will be 3.7 miles on your left.
From Sierra Vista: I 90 to Rte 82 West, turn left on Upper Elgin Rd., the winery is 1 mile past the bridge on the right.
The Sonoita Wine Trail is Arizona's original and oldest wine-growing region. It boasts of eleven wineries and the USA Today listed it as one of the top ten wine trails in the United States. The festival is a perfect and affordable event for the entire family.
For more information: http://www.kj-vineyards.com .
Copyright © 2012 Neotrope® News Network – all rights reserved.