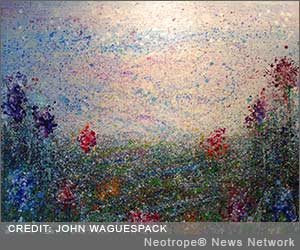 SAN FRANCISCO, Calif. /eNewsChannels/ — Atlanta-born John Waguespack will unveil three new art works – "Spring Forward," "Red Sea at Dawn," and "Black Alaskan Waters" – which beautifully illustrate his broad range of artistic styles at Spotlight on Art for Trinity School Feb. 4 – 9, 2013.
In 2012, Waguespack's work was nominated for a SECA award from the San Francisco Museum of Modern Art and the artist was selected to represent San Francisco in a national art competition at Scope during Art Basel Miami. In November, reporter Don Sanchez of KGO-TV (ABC News) in San Francisco, proclaimed John to be "on the verge of major stardom." This year bodes well with his art currently gracing the cover of the Nob Hill Gazette, the arbiter of style in San Francisco.
"This is an exciting time for me. I am honored to participate in Spotlight on Art and showcase my work in Atlanta," notes Waguespack, who attended Morris Brandon Elementary and Marist School in Atlanta.
AN ARTIST'S COMING OF AGE:
Although Waguespack did not originally intend to become an artist, it became a calling he could not ignore.
Explaining his transition into the art world, John says, "Actually, I had no choice – my passion for painting overwhelmed every aspect of my life. When I am in the midst of transforming the ideas in my head onto canvas, the outer world melts away and I become consumed with the art I am creating."
A firm believer that the creative spirit cannot be caged or limited, Waguespack follows his instincts and moods to create very distinct collections of art. This versatility can be seen in the art he will feature at Spotlight on Art.
A joyous burst of color, "Spring Forward" captures the exhilarating nature of the season in the style of Abstract Expressionism.
"Red Sea at Dawn" marries Abstract Expressionism and Linear styles for a seductive rendering of the Red Sea at dawn.
Collectors of Waguespack's art range from high-tech entrepreneurs and finance executives to some of nation's most famous chefs.
John Waguespack's art has been exhibited at Art Basel Miami's Scope Art Fair, The LA Art Show, the San Francisco Fine Art Fair, Art Pad SF, Art Aspen, The McLoughlin Gallery, 111 Minna Gallery, Los Angeles Center for Digital Arts, and The Griffin Gallery. John's artwork has recently adorned the covers of both San Francisco's 7×7 Magazine and the Nob Hill Gazette and appears in Fabrik Magazine, SF Art News, and ABC News Bay Area.
For more information about John Waguespack, please visit http://www.jwagart.com/ .
Copyright © 2013 Neotrope® News Network – all rights reserved.