Combining Online and Brick-and-Mortar Operations, BETA Defies the Trend of Industry Cutbacks
HOLLYWOOD, Calif. — Rebelling against the current downturn for traditional record companies, Chris Honetschlaeger, President of BETA Records (www.betarecords.com), has announced a new generation of record deal which partners the company with the artist in a non-exclusive three song contract and plans to sign 100 artists in 2008.
BETA will analyze and utilize listening behavior across its own fast-growing community database of 75,000 unsigned artists to find, sign, and develop the best 100+ acts over multiple genres throughout the year. BETA has already signed 5 acts with another 12 pending in genres ranging from metal to pop.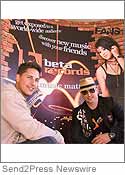 NEW DEAL
The BETA deal incorporates a multitude of distribution channels available online including featured placement of the artist within the newest version of the BETA Records website slated for release in Feb 2008. "Plugging into the new BETA is like accessing over 100 distribution channels simultaneously," says Georg van Handel, BETA Records CEO. "Alongside selling songs and ringtones, BETA will unveil two innovative online revenue features to monetize the artist. BETA has solved the industry wide riddle in its upcoming website release to generate revenue from the passionate and engaged fan who already owns the music via purchase or piracy."
NON-EXCLUSIVITY
Contracts with BETA "allow the artist to keep all physical CD sales, tour and concert revenue, and merchandise," notes Honetschlaeger. "BETA's position takes a 50/50 stake in the copyright, digital song sales and online advertising of the artist's music. All of this comes packaged in a concise 8-page contract, blessed by some of the best music attorneys in Hollywood. And since our deal is non-exclusive, BETA allows and encourages artists to find other deals to help with their career growth. I am convinced that we will discover the next generation of superstars faster and more efficiently than Universal, Sony, Warner, and EMI combined," Honetschlaeger adds.
In working with each of the 100 artists signed to the company, BETA will utilize its new multimedia facilities in Hollywood to record both the audio and respective video of each song in a high energy 3-day 3-song production schedule. With 18 streaming cameras and microphones in the studio, not a moment is lost in the "making of" each song and video.
FUTURE PLANS
BETA plans on hosting a private unveiling dinner of the new site to a group of 50 press, bloggers, forum leaders, and music industry tastemakers in the first week of February. Those interested should contact scottg@betarecords(.com).
[tags]BETA Records, new generation of record deal, traditional record companies, Indie Music Artists[/tags]