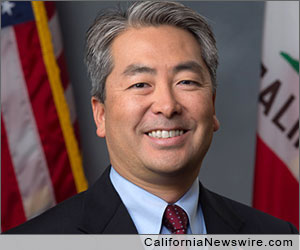 TORRANCE, Calif. /California Newswire/ — Calif. Assemblymember Al Muratsuchi (D-Torrance), Chair of the Assembly Committee on Veterans Affairs, today was appointed to a new Military Advisory Council by Governor Jerry Brown. "I would like to thank Governor Brown for his vision in establishing the Council and for this appointment," said Muratsuchi.
"I very much appreciate the support of Assembly Speaker Perez in recommending me. This is a historic opportunity for California to take a proactive stance in this time of transition for the nation's military."
The 2013 Department of Defense (DoD) budget included a request to establish a new Base Realignment and Closure Commission (BRAC) for up to two rounds of military base closures. Although it is seems unlikely that there will be a round in 2013, a subsequent round of closures may be on the horizon.
California's varied geography and climate are optimal for battle simulation and combat training. The topography of the state provides diverse training for the Army, Navy, Air Force, Marines and Coast Guard. The location of troops and equipment throughout California and along the Pacific coastline provides an advantage for our national defense, particularly given the new military focus on the Pacific.
"In Southern California and the South Bay in particular, we must fight to preserve our robust aerospace and defense industry and be vigilant in defending our military installations, including the Los Angeles Air Force Base, which contributes so much to the regional economy," continued Muratsuchi. "We are fortunate that Lieutenant General Eugene Tattini, former Commander of Los Angeles Air Force Base, has also been appointed to the Council."
Formation of the Council will allow the state to quickly recruit new military missions as weapons systems, aircraft, and ships evolve. These missions bring jobs and are an investment in California.
Al Muratsuchi is the Chair of the Veterans Committee of the California State Assembly. He represents the cities of Gardena, Hermosa Beach, Lomita, the Los Angeles communities of Harbor City and Harbor Gateway, Manhattan Beach, Palos Verdes Estates, Rancho Palos Verdes, Redondo Beach, Rolling Hills, Rolling Hills Estates, Torrance and the unincorporated communities of El Camino Village and West Carson.
---
Copyright © 2013 California Newswire. This content is copyrighted under U.S. and international law and may only be used for non-commercial purposes by news aggregators or under license of the Neotrope® News Network (www.neotrope.net). .