HOUSTON, Texas — Toombas Jeans & Denim Wear announces this week their new line of no-gap-in-the-waist jeans and other denim clothing, sizes 0-24. Inspired by millions of curvaceous women who have gone unnoticed in the fashion world, the founders of Toombas Jeans & Denim set out to change women's negative self images by simply stating, "Love Your Curves." These clothes are designed to reinstate women's confidence and to make them like what they see when they look in the mirror. They are also designed to take women from day to night – from the workplace to the hottest place.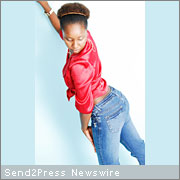 "We should all love our inner essence no matter what we look like on the outside," Haja Scott, designer says. "And, the best way to love the 'inner you' is to start feeling good about the 'outer you'."
Women of all shapes and sizes continue to quest for that perfect pair of jeans. And for most, buying jeans without a huge gap in the waist is the biggest challenge. That's why Toombas has tackled the challenge and, according to their customers, have succeeded with flying colors.
Toombas has promised and delivered awesome fitting jeans that women are singing praises about. And being women, the Toombas designers know how important it is to please women and to make their clothing fit perfectly.
When the company's journey first began, not many retailers were targeting women with smaller waists, and wider hips and rear. Now, even those retailers who do provide alternatives simply do not have great options for the everyday woman.
Price is also a big factor, especially today when people are really watching their budgets. Toombas jeans are strategically priced so that women can have stylish, quality clothing without having to break the bank.
About Toombas Jeans & Denim Wear
In 2005, Haja Scott, designer, along with her two sisters, Zainab Ntaamah and Fatima Iscandri founded Toombas Jeans & Denim Wear. The first few years were devoted to research and development to create a top-notch brand accompanied by their original-sizing chart.
The primary motivation of the company is simple – to provide reasonably priced, high-quality fashions with a good fit. Toombas jeans provide comfort while accentuating hips, waist, and more importantly, curves. With a range of fashionable jeans, capris, shorts, skirts, denim tops and tees, Toombas is poised to become a major contender in the fashion world.
For more information on products, or to order online, visit: http://www.toombas.net. Products are also available at Toombas locations in Stafford and Pflugerville, Texas; a listing of new retailers will soon be added to the web site.
[tags]Toombas Jeans and Denim Wear, Zainab Ntaamah and Fatima Iscandri, designer Haja Scott[/tags]