Home
Clothing and Fashion
Clothing, Accessories, and Fashion Industry News
eNewsChannels NEWS: -- BargainsLA.com, is Southern California's premier bargain shopping guide to discount outlets, sample sales, warehouse sales and liquidation outlets. Since October 1999, BargainsLA's founder, Suzanne O'Connor, has reviewed over 1,000 "Off Price" discount outlets and posted over 15,000 sample sales and warehouse sales.
eNewsChannels NEWS: -- Empire License, Inc., owners of a wide variety of trademarks and brands, are proud to announce the launch of their new apparel and more licensing agency, located in Miami, Fla.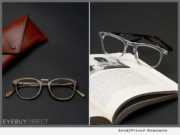 eNewsChannels NEWS: -- EyeBuyDirect today announced a new line of RFLKT glasses designed with the winter months in the forefront. New styles released include Planete, Illusion, Resonance, Luminous and Era, and will be available starting November 12, 2018. The five new frames in EyeBuyDirect's premium line reflect the best winter has to offer when it comes to colors - clear blue, pink golden and brown striped.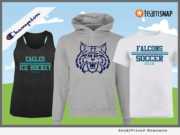 eNewsChannels NEWS: -- TeamSnap, the household name in integrated sports management, has partnered with Champion Athleticwear to be the official provider of custom fanwear sold through TeamSnap's Team Store. The Team Store ecommerce platform gives TeamSnap's 20 million users direct access to purchase custom branded Champion apparel through the popular app.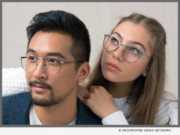 eNewsChannels NEWS: -- The fastest growing online eyewear retailer, EyeBuyDirect, has launched its new collection, Winter Whims. The collection includes 21 frames that embody the colors, textures and feeling of winter. The new Winter Whims collection is available online now. It features chocolate-brown and cinnamon-red frames that invoke the smell and tastes of the holiday season.
NEWS: (NEW YORK, N.Y.) Very Rich Style (VRS) is a fashion design brand that was born from a mother's desire. The owner, Velica Steadman initially, originally thought sewing would just be a hobby. However, her mother pushed her towards a different idea. After a decent amount of encouragement, her mother's advice finally got to her. Velica changed her attention from small decorative furnishings, to dress-making, and creating men's accessories.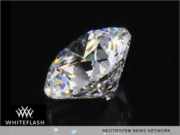 NEWS: Whiteflash Inc., top tier retailer of ideal diamonds and fine bridal jewelry, announced this week that it is adding High Definition 360 degree video to their website for their in-house loose diamonds.
DES MOINES, Iowa /eNewsChannels/ -- NEWS: Bassackwards Tees, an Iowa-based clothing company, has announced that due to increasing customer demand, they have just released an additional four state T-shirts to their lineup, which include Illinois, West Virginia, Arkansas and Georgia. The company already offers their unique, increasingly popular and 'crazy soft' shirts for eight U.S. states bringing the total now to 12 states overall.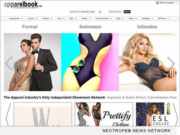 LOS ANGELES, Calif. /eNewsChannels/ -- NEWS: Apparelbook, the world's first online sourcing network for the apparel and accessories wholesale industry, today announced the launch of its online marketplace, Apparelbook.net, and package of online branding tools and services. Apparelbook provides an instant and direct source for retailers of all sizes to discover new apparel products and manufacturers via its online marketplace.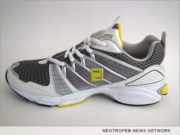 MIAMI, Fla. /eNewsChannels/ -- NEWS: Currently, the NFL Combine is the most noted of all football camps and related events. College Pro Day is a very close second, and should soon challenge for the number one sporting crown. With the ever growing popularity of Pro Days, through manufacturing and licensing, True Fan Sports is positioning themselves as a premier powerhouse of high-performance sportswear, athletic sports shoes, leisure apparel and accessories.