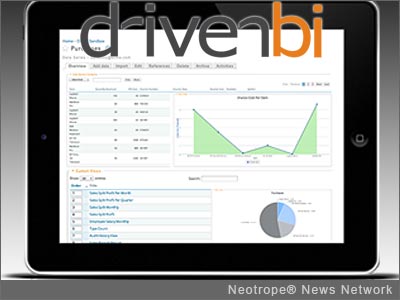 PASADENA, Calif. /eNewsChannels/ — NEWS: DrivenBI and the Loyola Group announced their partnership today, empowering management to develop healthcare key performance indicators (KPIs) in entirely new ways. SRK simply replaces spreadsheets for analysis, delivering self-service analysis capability for Reporting and Dashboards demanded by the Senior Living Industry for Long Term Care, Skilled Care, Assisted Living, Independent Living, and Continuing Care Retirement Community.
"We are excited to partner with The Loyola Group, incorporating DrivenBI's cloud-based Self-Service analytics platform, SRK, into the Senior Living Industry. With SRK, quality monitoring KPIs can be implemented and customized quickly by business users without reliance on IT," said Ben Tai, CEO and founder of DrivenBI.
SRK provides KPI templates in healthcare, finance, human resources and operational areas, which allow management to create their own cross-reference KPI analysis to identify real time correlations without IT involvement or requiring ETL, Data Warehouse, OLAP, etc. Results of analysis are presented according to the user's access level in dynamic user views, shareable report snapshots and real-time intuitive dashboards.
According to Dan Cavolo, president of The Loyola Group, "We leverage SRK's rapid implementation and flexible functionality to build KPIs. For example, within weeks, dozens of KPIs were implemented for a continuing care retirement community with facilities in U.S. and abroad. It helped them to streamline staff allocation, maintain customer satisfaction, perform Medicare reimbursement analysis and receive automatic alerts on areas where improvements are required. We are amazed at how quickly and easy this was accomplished."
Product Key Features:
* No programming required
* No prerequisite for ETL, Data Warehouse, and OLAP
* Compose real-time views, schedule snapshot reports, create intuitive aggregated dashboards
* Configure role-based access control
* Actionable sharing and collaboration
* Centrally manage logic for just-in-time adjustments and what-if analysis
* Export reports and dashboards into PDF or Excel
* Send automatic alert when performance reaches user-defined threshold levels.
About The Loyola Group:
The Loyola Group provides technology leadership services to small and mid-sized organizations (partnerships, corporations, public companies, continuing care retirement communities, healthcare organizations, municipalities, and non-profit organizations). Their mission is to be an executive technology management solution for clients who want the services and sophistication of a professional firm, continuity of engagement personnel, personal attention from partners, and quality response. More information: http://www.theloyolagroup.com/ .
About DrivenBI:
DrivenBI provides an innovative self-service analytics platform designed to unify, analyze and report data. Its products quickly deliver data insights to organizations with speed and simplicity. DrivenBI cloud based analytics platform offers ease of use, consistency of results and facilitation of cross-department collaboration by business users, reducing the reliance on IT. This allows users to move away from their spreadsheet analysis, and complex IT centric BI tools. More information: http://www.drivenbi.com/ .
This version of news story is Copr. © 2014 eNewsChannels™ (www.enewschannels.com) and the Neotrope® News Network – all commercial and reprint rights reserved. Unauthorized reproduction in whole or in part without express permission is prohibited.