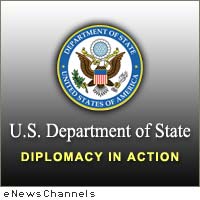 WASHINGTON, D.C. /eNewsChannels/ — The U.S. Department of State and the Women's National Basketball Association (WNBA) announced today that former WNBA players Tamika Raymond and Kiesha Brown will travel to Shenyang, China, as Sports Envoys June 11-15. These American athletes will lead several basketball clinics and life skills discussions for girls from underserved areas, ranging from elementary school to high school ages.
They will promote the importance of health and wellness, leadership and teamwork, and using basketball as a universal language to bring people together. They will also discuss how Title IX, the landmark law in the United States that afforded equal opportunity for men and women in academics and athletics, has empowered a new generation of women and girls through sports.
The Empowering Women and Girls through Sports Initiative builds on Secretary of State Hillary Rodham Clinton's vision of "smart power," which embraces the full range of diplomatic tools – in this case, the game of basketball – to bring people together and foster understanding. The Sports Envoy programs are a key component in the Initiative's goal to increase the number of women and girls worldwide who are involved in sports.
The program in Shenyang was first announced during the recent U.S.-China Consultation on People-to-People Exchange (CPE), held in May in Beijing. In 2010, Secretary Clinton and Chinese State Councilor Liu Yandong initiated the joint effort to enhance and strengthen ties between the citizens of the United States and China.
SportsUnited is the Bureau of Educational and Cultural Affairs' premier sports exchange program at the U.S. Department of State. Since 2003, SportsUnited has brought nearly 1,000 athletes from over 60 countries to the United States to participate in sports visitor programs. Since 2005, SportsUnited has sent over 220 U.S. athletes to more than 50 countries to participate in sports envoy programs, including over 40 NBA and WNBA players and coaches.