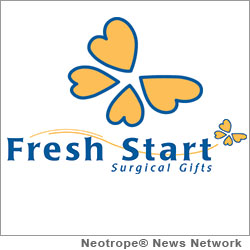 SAN DIEGO, Calif. /eNewsChannels/ — Fresh Start Surgical Gifts, a San Diego non-profit organization, has been chosen as the beneficiary for the 2nd Annual PayLease Golf Tournament on Saturday, June 9th at Riverwalk Golf Club in Mission Valley. All proceeds will help Fresh Start achieve its mission of transforming the lives of children with deformities through reconstructive surgery.
"We have many young families at PayLease and we decided as a company to give back to our community in a way that benefits children. Fresh Start is an amazing organization that we are proud to support," Dave Dutch, PayLease President.
Sponsorship packages and spots to play in the tournament are still available for purchase.
Festivities kick-off at 6:30 a.m. and shotgun start is at 7:30 a.m. Each participant will receive a golfer gift package, 2 drink tickets, range balls, lunch and admission to the awards ceremony where Fresh Start patient Brittany, who suffered from Apert Syndrome, will share her story.
Fresh Start has provided over $21 million worth of free medical services to over 5,700 children from all over the United States. Fresh Start's services include reconstructive surgery, dental procedures, laser treatments, and speech therapy. Recently, Fresh Start was named Best Local Nonprofit of 2011 by Ranch and Coast Magazine, as well as Healthcare Champion of 2011 by San Diego Business Journal. 100 percent of contributions go to Fresh Start's medical programs.
For more information, please contact Amanda Thompson at (760) 448-2018 or amanda@freshstart.org.
About Fresh Start Surgical Gifts:
Fresh Start is a non-profit organization that provides reconstructive dental and plastic surgery for kids free of charge. Six weekends annually Fresh Start holds a Surgery Weekend where 80-100 medical volunteers provide reconstructive plastic surgery and reconstructive dental surgery for infants, children, and young adults with physical deformities free of charge. Surgery Weekends are held at the Fresh Start Clinic at Rady Children's Hospital in San Diego.
All medical and support personnel generously volunteer their time, talents and expertise.
Fresh Start serves U.S.-based children as a priority and reaches out internationally as we believe that no child should suffer with a physical deformity due to birth defect, disease, accident or abuse. With insurance deeming more and more deformities as "cosmetic" we are determined to make certain that all children get the medical attention they need regardless of the family's ability to pay.
Fresh Start accepts children and young people under the age of 18 from:
* financially disadvantaged families with no health care insurance;
* families whose health care insurance won't pay for the procedures because they are deemed "cosmetic";
* families who do not qualify for state funded programs;
* families who would suffer significant financial hardship if they were to pay for the necessary and costly medical treatment.
For more information about Fresh Start Surgical Gifts, please visit http://www.freshstart.org or call (760) 944-7774.
Copyright © 2012 Neotrope® News Network – all rights reserved.