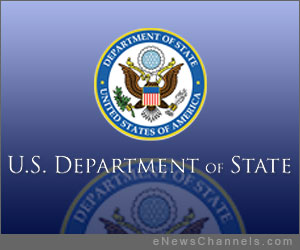 WASHINGTON, D.C. /eNewsChannels/ — The Bureau of Educational and Cultural Affairs and mtvU, MTV's 24-hour college network, announced today the four 2013 Fulbright-mtvU Fellowship recipients. Fulbright-mtvU is an academic exchange program established in 2007 to promote "the power of music" as a global force for mutual understanding.
The Fellowships were awarded to: Phil Babcock, a graduate of Tufts University, who will create an online record label devoted to digital distribution of music in Ghana; Garret Rubin, a graduate of the University of Rochester, who will create a music outreach program for Iraqi refugee children living in Jordan; Melinda Reyes, a graduate of Georgetown University, who will research musicians specializing in hybrid genres of national identity in Turkey; and Sara Skolnick, a graduate of Boston University, who will research Internet-driven, low-barrier access to digital music production in Colombia.
Recipients were chosen through a multi-tiered, merit-based selection process by U.S. and foreign academic leaders, as well as a panel of professional musicians including members of the band Imagine Dragons, as well as Rita Ora, and Steve Aoki. Final selections were made by the Presidentially appointed J. William Fulbright Foreign Scholarship Board.
The Fulbright-mtvU Fellowship promotes the role of music in mutual understanding, invigorates interest in international education among U.S. college and university students, and furthers the positive impact of public-private partnerships in public diplomacy. The four Fulbright-mtvU Fellowship winners will conduct research for one academic year and will share their experiences with their peers during their Fulbright year via video reports, blogs and podcasts on mtvU and Fulbright.mtvU.com.
The competition for the next Fulbright-mtvU Fellows will open on November 1, 2013. Applications will be accepted through March 1, 2014. For more information visit: http://www.us.fulbrightonline.org or .
The Fulbright Program is the U.S. government's flagship international educational exchange program and is supported by the people of the United States and partner countries around the world. Since 1946, the Fulbright Program has provided more than 318,000 participants from over 155 countries with the opportunity to study, teach and conduct research, exchange ideas and contribute to finding solutions to shared international concerns.