NEW YORK, N.Y. — Today, Hari World Travels, Inc. ("Hariworld") launched a new unrivaled web-based airline booking engine allowing travel professionals to book contracted and published air fares to worldwide destinations. The new booking engine provides travel professionals with access to more than 10 million fares to Europe, Asia, Africa, South America and beyond. The travel agent can now complete an entire transaction with just a few clicks of the mouse. Travel agents can search for fares, choose the trip itinerary, book a trip, pay for tickets in 4 easy steps and add their own markup.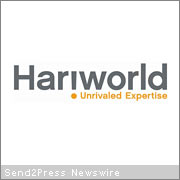 Thereafter, they have the ability to track every ticketed booking as well as view and print their own invoices. All this can be done online in minutes. Membership is available to qualified travel professionals at no cost.
"Agents need access to state-of-the-art and user-friendly technology in order to provide their clients with the best fares and services available. I urge participants to view the booking engine and provide feedback so we can continue to enhance and meet your needs," says Prem Cohly, CEO.
For 40 years Hariworld has been catering to the travel community offering more seats on more airlines to more destinations at very competitive prices. From a modest beginning in 1968, Hariworld has grown into one of the country's most influential and respected consolidator.
"While our growth has been dramatic, with offices in New York, Chicago, Atlanta and San Francisco we have not sacrificed the personal, dedicated, professional attention to detail that has been the trademark of Hariworld since our inception," says Prem.
More information: http://www.hariworld.com.
[tags]Hari World Travels, Hariworld travel services, CEO Prem Cohly[/tags]