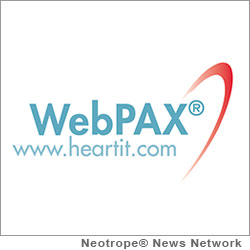 DURHAM, N.C. /eNewsChannels/ — Heart IT, the global leader that pioneered the first FDA approved zero footprint medical imaging workstation, has announced that WebPAX has been purchased by Memorial Sloan-Kettering Cancer Center in order to help manage and distribute medical images from their Cardiac Magnetic Resonance Lab.
There are several key features and capabilities that are made available through the use of the WebPAX(R) image management system. Customers are able to acquire medical images from any DICOM compliant scanner and then make those images readily available on any computer with any web-browser without the need for clients or plug-ins (zero footprint imaging). WebPAX(R) also provides the unique capability to create web-based reports from any computer. This gives the physicians great flexibility as they will be able to view medical images and finalize reports from virtually anywhere that they have web access.
Despite being web-based, WebPAX(R) is diagnostic capable and has received FDA 510k clearance. Hospitals are also able to easily share medical images and reports with referring physicians. Once the image has been read, it can be securely shared with the referring physician via e-mail and the web. This ability directly supports our customers' commitment to exceptional patient care and enables a great outreach effort to their referring physician community.
About Heart IT:
Founded in 2000 and headquartered near North Carolina's Research Triangle Park, Heart IT is a global leader in the medical image web enablement field. Their flagship product, WebPAX(R) is the first FDA approved zero foot-print medical image workstation. It provides web-based medical image management technology and services to health care systems, large hospitals and private clinics as well as drug and device companies sponsoring multi-center clinical trials. Worldwide, WebPAX(R) systems currently provide secure web browser access to over one billion medical images. For more information visit our website at http://www.heartit.com/ .
Copyright © 2012 Neotrope® News Network – all rights reserved.