NEWPORT BEACH, Calif. — iMC Motorcom announces the release of the world's first iPhone compatible motorcycle headset: the HS-500. The HS-500 allows motorcycle riders to utilize the phone and music functions of their Apple iPhone and other 3.5mm (standard stereo headset jack) equipped cell phones, including the Palm Pre and Blackberry Storm.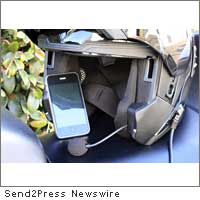 The HS-500 features dual slim stereo speakers, a microphone, and a handlebar-mounted control button. The directional noise-cancelling microphone will give riders the option of communicating clearly with people who need to reach them on the road.
The handlebar-mounted control button allows riders to take and end phone calls, play or pause music, and even advance and rewind tracks on their iPhone. The HS-500 is available for the retail price of $68 at motorcycle dealers already stocking iMC Motorcom products and online at www.imcmoto.com .
The HS-500 is a great choice for music-loving, multitasking cell phone users who want unique control of music, easy call navigation, and superior sound. Using a wired headset will provide longer battery life for your cell phone on those long rides compared to utilizing Bluetooth technology. Just plug it in and ride!
Features:
* Compatible with Apple Voice Control (iPhone 3GS and iPod(R) shuffle(TM) [3rd generation]).
* Headphone and microphone functionality with most 3.5 mm-equipped cell phones.
* Velcro strap-mounted handlebar remote control button also runs basic iPhone music playback and provides additional functions for most phones.
* Large diameter (36mm) wafer-thin speakers (6mm) provide unsurpassed sound fidelity.
In The Box:
* 1 – 3.5mm lower cord.
* 1 – Upper helmet headset with two high-fidelity stereo speakers and microphone connector.
* 1 – Boom microphone (detachable).
* 4 – Velcro speaker enclosures with adhesive mounting.
* 1 – Package of tape strips for excess wiring.
* 1 – Removable control button.
* Warranty: Two years.
About iMC Motorcom:
iMC Motorcom has been developing motorcycle audio and communication equipment in Germany since 1992. From the first stereo Bluetooth motorcycle headset (BHS-500) to the first Apple iPhone specific motorcycle headset (HS-500), iMC Motorcom is a leader in innovation and quality in motorcycle communication. Also backed by an industry-leading two-year warranty, it is no wonder riders who care about what goes in their helmet choose iMC Motorcom products.
iMC Motorcom products can be found at select motorcycle dealers across the United States. Visit their Web site at www.imcmoto.com for more information or for a dealer in your area.