"I used to think my life was perfect. I felt confident, had lots of friends…a great relationship. But then things started to change."
SALT LAKE CITY, Utah — This provocative opening line from a television commercial for a "mood elevating" pill has really struck a nerve. If the overwhelming response to the Libutol(TM) ad is any indication, it seems American women are more tired, distressed and unhappy than most experts (and women themselves) are willing to admit. That's the logical conclusion drawn from the phenomenal reaction women are having to Libutol, "The Little Yellow Pill That Makes Life Better" from Blackett Pharmacal(TM).
The ad poses a simple question: do you feel your "perfect life" is somehow imperfect? The answer has been a resounding "YES," leaving psychologists and cultural experts wondering two things: 1. Why do so many women feel that something important is missing from their lives; and, 2. Why are women turning to a non-prescription pill like Libutol to ease the unhappiness and distress of what some are calling "supply-side angst?"
The 60 second Libutol ad (www.libutol.com), which describes an all natural, non-prescription "mood elevating, feel good pill" that helps women overcome bouts of fatigue, distress and general unhappiness, is the first nationally-broadcast commercial to directly ask women how they are really feeling.
"This is a thought-provoking ad that I hope will reopen the debate about the challenges of our fast-paced lifestyle and how women are coping," said Dr. Daniel Mowrey, Ph.D. "It seems that women of all economic levels relate powerfully to the Libutol message, almost as if someone has finally recognized their 'secret' dilemma… an all too frequent sense of gloom and distress, even as they seem to be living wonderful lives. I'm glad the Libutol ad has pulled back the curtain, so to speak. We need to have a long, hard discussion about our growing sense of unhappiness, increasingly frequent bouts of worry and anguish, and our escalating use of antidepressants."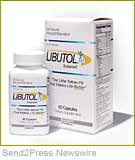 According to recent statistics, one in 10 women are prescribed antidepressants (Washington Post, 2004) and more than one in three doctor's visits by women involved a prescription for an antidepressant (Center for Mental Health Services of the Centers for Disease Control and Prevention). "And now with the rush for Libutol, it's apparent there's a need for something that helps women feel better about their lives and about themselves," said Mowrey.
Understanding Libutol: Called "The Little Yellow Pill That Makes Life Better," Libutol is an all natural mood elevator that simply helps women feel better and happier, particularly during those times when they're distressed and discontented. The formula contains several clinically-proven mood enhancers and a proprietary herbal blend that incorporates the wisdom of ayurvedic medicine. The result is a superior, all natural mood elevator that might be the answer for millions who want to enjoy life again, but aren't ready for prescription medication.
"We all have bouts of melancholy and sadness," says Heather Hurst, spokesperson for Blackett Pharmacal and Libutol. "Temporary rough patches are a natural part of life; however, when these episodes become more frequent and seem to last longer, many of us need a little help. That's why the introduction of Libutol is so significant. Finally, we have a natural way to improve our mood and quickly overcome that tired, distressed, unhappy feeling before it leads to deeper, darker results that can affect our long-term health, our relationships and our self-esteem."
Blackett Pharmacal encourages you to consult with your physician or mental health specialist. And never take Libutol or any other natural formulation if you're already using prescription antidepressants or anti-anxiety drugs.
The national Libutol campaign officially kicked off on Monday, April 23. The commercial can be viewed at www.Libutol.com. Right now, the formula is only available directly from Blackett Pharmacal. Full retail distribution is expected in the 4th quarter of 2007.
[tags]Blackett Pharmacal, Libutol for women, pharma news[/tags]