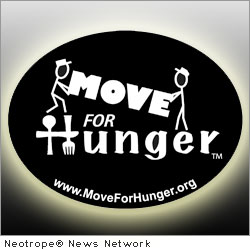 FORT WORTH, Texas /eNewsChannels/ — FFireFighting's Finest Moving and Delivery of Fort Worth, TX has been recognized as Move For Hunger's "Mover of the Year" for 2011 out of 250 moving companies in 39 different states. The Mover of the Year award is presented to the moving company that best exemplifies the philanthropic spirit of Move For Hunger.
In 2011 alone, FireFighting's Finest delivered over 10,000 lbs. to the Tarrant Area Food Bank through consistent monthly collections as well as a number of food drives. That is enough food to provide for over 7,600 life-saving meals to those in need in the greater Fort Worth-Dallas area. The employees of FireFighting's Finest are almost all active duty firemen and women which may explain their philanthropic spirit!
Move For Hunger is a non-profit organization that works with relocation companies from across the country to provide support to food banks and local pantries. Many people throw out a good deal of "stuff" when they move. Unfortunately, a lot of this "stuff" is food that could be delivered to a family in need rather than thrown away. As a Move For Hunger affiliated mover, FireFighting's Finest offers to collect any unopened, non-perishable food items from their customers and deliver that food directly to the Tarrant Area Food Bank.
"We are extremely proud of FireFighting's Finest Moving & Delivery, their enthusiasm and dedication is a model for all of the companies involved in our fight against hunger," says Adam Lowy, executive director of Move For Hunger. "The staggering amount of food they have delivered is a true testament to the ability of our nation's moving companies to fight hunger."
The 2011 Mover of the Year Award is the first time the annual award has been bestowed on one of the Move For Hunger affiliated companies. The award recognizes a mover's dedication towards fighting hunger in their local community. Each of the moving companies involved with Move For Hunger pledge to collect at least 300 lbs. of food per year and to include hunger awareness materials to every customer they serve.
About Move For Hunger:
Move For Hunger is a non-profit organization that works with relocation companies across the country to pick up unwanted, unopened food from those who are relocating and deliver it to local food banks across the country. To date, Move For Hunger is working with over 250 movers in 40 states and has delivered more than 420,000 pounds of food to food banks throughout the country. For more information on Move For Hunger, visit www.MoveForHunger.org .
Move For Hunger, 1930 Heck Avenue, Bldg. 1, Ste. 1, Neptune, NJ 07753.
Copyright © 2012 Neotrope® News Network – all rights reserved.