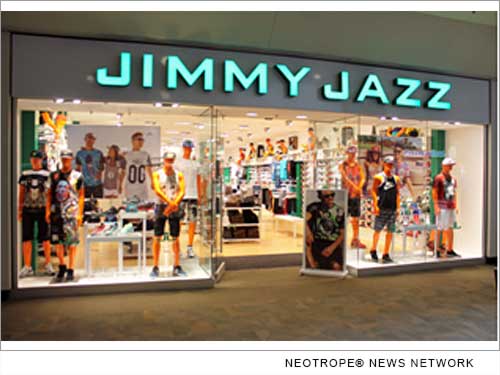 ROCKAWAY, N.J. /eNewsChannels/ — NEWS: On Saturday, May 24, 2014 at 10 a.m. E.T., hip hop inspired apparel and shoe retailer, Jimmy Jazz, will have its Grand Opening at the Rockaway Townsquare store in New Jersey. The specialty retailer promises a unique and exciting opening for its newest store.
The urban & street wear store is offering 25 percent off all apparel and other great sales on selected merchandise including accessories. In addition to its wide selection of sneakers from premier brands like Nike, Jordan, and Reebok, Jimmy Jazz will also offer 12 Limited Release restocks catering to the sneaker culture.
"Jimmy Jazz is very excited to finally open our second store in New Jersey," stated Robert Butler, VP & GMM for the chain. "Our stores and online shop offers a unique concept that caters to a very specific market segment. We are always trying to exceed our customer's expectations by providing them with the most exciting and fresh product," Butler went on to say.
The opening promises to be much more than a shopping experience and the celebration will continue throughout the day. With hourly raffles and giveaways, customers will be eligible to win gift cards, prizes and more.
This is Jimmy Jazz's second store in New Jersey, but Butler reveals that more New Jersey stores are on the way. "We are looking forward to opening several stores in the garden state over the next 12 months," says Butler.
Also, the company is increasing its social media presence among consumers & fans, as well as tastemakers and other notables in the hip hop community. Customers can join in and connect with the brand online on their blog at . Also, after any purchase, Jimmy Jazz is encouraging customers to post photos of their new items on Instagram, Facebook and Twitter and hashtag the word #GotMineAtJJ.
Don't miss this amazing storewide event, taking place at Jimmy Jazz's new Rockaway Townsquare store located at 301 Mt. Hope Ave in Rockaway, New Jersey.
About Jimmy Jazz:
Jimmy Jazz and subsidiaries have over 170 stores on major streets and malls in the eastern United States, which includes over 30 in the New York Metro area. The company's award winning eCommerce site, JimmyJazz.com, an Internet Retailer 500 company, is currently ranked as the fastest-growing retail chain in the United States for online sales.
Stores feature premier street wear, urban lifestyle, and footwear brands including Nike, Jordan, adidas, Polo Footwear, Levi's, and Decibel, just to name a few. We receive clothing, shoes and accessories daily from designers who are creating the hottest styles and colors, providing an ever-changing showcase of the newest fashion available for men, women, and kids.
Just like our exceptional retail stores, we strive to bring the latest in-demand brands to our shoppers online at JimmyJazz.com. In addition to easy and convenient shopping, Jimmy Jazz is updated on a daily bases with the most current urban lifestyle content available, making our web store an all-in-one destination for shopping and entertainment.
More information: .
This version of news story is Copr. © 2014 eNewsChannels™ (www.enewschannels.com) and the Neotrope® News Network – all commercial and reprint rights reserved. Unauthorized reproduction in whole or in part without express permission is prohibited.