OPINION: Senator Shutdown (A.K.A. Ted Cruz) announced his campaign for the U.S. Taliban Party nomination and there has been an explosion of helpful suggestions on the Internet. FOAD is, of course, the most prevalent. But many others are hilarious.
OPINION: On Christmas Eve my neighbor, Betty Miramontes of Puerto Vallarta's Business Association, told me about a Humpback that got entangled in fish nets and couldn't be saved. She said they needed help getting the word out how to better protect our beloved whales in beautiful Banderas Bay.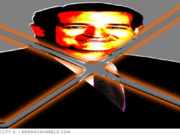 OPINION: The clown car carnival is upon us! Yes, the brigade of braggarts hoping for the GOP presidential nomination is swarming across the country (or at least the states with Republican primaries). It appears that many of the buffoons have not yet formulated their campaign slogans. We're here to help.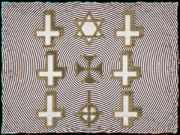 OPINION: Religiosity is an odious mistake of candidates from both major political parties but is especially prevalent among members of the rightwing nutjob cabal. But the religious behave in the same manner as radical extremists by claiming extra-special rights for 'sincerely-held beliefs.' If they want to play by those rules, let's look at my sincerely-held beliefs.
EARTHRISING is a Series on How we can lift each other up higher and higher through harnessing our Imagination, Ancient Tribal Wisdom, Green Technology & Heart...
OPINION (by John Scott G): Here at the headquarters of the Anti-Conservative Team, we were fortunate to gain an interview with two of the GOP's behind-the-scenes operatives, men who eschew publicity because of their ties to the Koch brothers' evil empire of anti-Americanism.
OPINION: A large number of people are being used as unpaid 'volunteers' in what might be called The Termination of Life Project and older generations need to apologize to everyone under 18 for creating conditions that will slowly, inexorably eat away at their lives.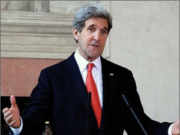 eNewsChannels.com - NEWS: John Kerry, U.S. Secretary of State made the following statement today in Washington, D.C.: The United States condemns North Korea for...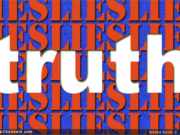 OPINION: Every day from now until the GOP's anti-American political convention in the summer of 2016 there will be horrifying speeches delivered by egomaniacs who are hoping to be anointed as the leading rightwing nutjob. What if their bloviating contained statements of truth instead of the standard conservative lies?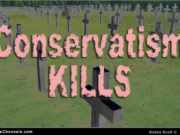 OPINION: The policies, positions, and practices of Conservatives can be immensely helpful to you -- assuming you're a wealthy person or a corporation. But for the vast majority of people, Conservatism is an evil pestilence that leads to pain, disease, starvation, and the breakdown of everything valuable that should accrue to you from living in a civilized society.