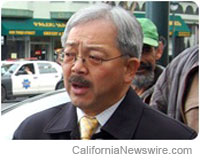 SAN FRANCISCO, Calif. /California Newswire/ — SF Mayor Edwin M. Lee today celebrated the submission of the San Francisco Bay Area regional bid in partnership with the San Francisco 49ers and the Super Bowl Bid Committee to the National Football League (NFL) to host Super Bowl L/LI in 2016/2017.
The Super Bowl game, which would be held at the 49ers new stadium in Santa Clara, Levi's Stadium, would bring hundreds of millions in revenue for the entire Bay Area region. The committee, led by Tipping Point CEO and Founder Daniel Lurie, has raised more than $30 million in commitments from the business community to host the Super Bowl in the Bay Area, with 25 percent of proceeds going back to youth and local charities.
"There's no better place to play host to the Super Bowl and celebrate one of our nation's greatest sports than right here in the San Francisco Bay Area," said Mayor Lee.
"San Francisco has proven over and over again that we know how to host major international events. Hosting a Super Bowl in the Bay Area will bring an enormous economic boost to our entire region and leave a lasting legacy for the entire Bay Area. Not only has the committee raised more than $30 million, but under Daniel Lurie's leadership we are putting 25 percent of it right back into the community where it is needed. I thank the members of the Super Bowl Bid Committee, San Francisco 49ers, Santa Clara Mayor Matthews and San Jose Mayor Reed in putting together the best bid to host the best Super Bowl ever."
"The San Francisco Bay Area is a world class city that is well positioned to host Super Bowl 2016," said Board of Supervisors President David Chiu. "It would not only be a great boost to our local economy, but football fans around the country would also get to experience all that San Francisco and the Bay Area have to offer."
"Representing the Board the Supervisors in this bid process has truly been an honor and a rewarding personal experience as one of the lifelong 49er faithful," said Supervisor Mark Farrell. "I look forward to hearing the NFL's decision in a couple weeks, and am anxious for the economic boom and civic pride that is going to ignite our City and the entire Bay Area if we land the bid."
"The region is excited and ready to host the most philanthropic Super Bowl in history," said Lurie. "It's important, as we raise funds for this event, to remember to contribute to antipoverty programs that will improve the lives of people right here in the Bay Area."
The NFL officially invited San Francisco and Miami, Florida, home to the Dolphins, to submit a bid to compete to host the 50th Super Bowl. Lurie submitted San Francisco's application to the NFL's Super Bowl Advisory Committee on August 9, 2012. The Committee delivered its bid package to NFL owners on May 7, 2013 with the complete bid package on an Apple iPad Mini. On May 21st, San Francisco will formally present its bid in a live pitch to the 32 NFL owners in Boston. The city that is not selected to host Super Bowl L will be invited to submit a second bid to host Super Bowl LI in 2017, competing against Houston.
The Super Bowl bid includes more than 22,000 hotel rooms set aside and official and unofficial events will be hosted throughout the Bay Area region, with free public celebrations and the NFL Experience in San Francisco.
A key part of the bid is the new Levi's Stadium, which includes high-speed WiFi for 75,000 fans and sustainable design materials, such as a green roof and a robust regional public transportation system to move fans around the Bay Area.
Today the bid committee announced that it raised $30 million in pledges from partners including Apple, Boston Consulting Group, Dignity Health, Gap, Google, Hewlett Packard, Intel, Yahoo!, Seagate, and ValueAct Capital. Twenty-five percent of the funds raised for the Super Bowl Bid will go directly to philanthropic efforts that help children and families living in poverty in the Bay Area. A separately-governed nonprofit body will be launched to administer this first-of-its-kind effort.
The bid committee draws from the business, hospitality, public and sports sectors, and its members include:
Nikesh Arora, CBO of Google
Robert Mailer Anderson, Author
Todd Bradley, EVP of Hewlett Packard
Willie Brown, former Mayor of San Francisco
Lloyd Dean, President & CEO of Dignity Health
Joe D'Alessandro, President & CEO of SF Travel
Pat Gallagher, Former President of Giants Enterprises
John Goldman, Former President of San Francisco Symphony
Carl Guardino, President & CEO of Silicon Valley Leadership
GroupThomas Keller, Chef & Restaurateur
Chris Kelly, Entrepreneur & Former Facebook Executive
Daniel Lurie, Founder & CEO of Tipping Point Community
Stephen Luczo, President & CEO of Seagate
Michael O'Hara Lynch, former Head of Global Sponsorship of Visa
Marissa Mayer, CEO of Yahoo!
Mary Murphy, Partner at Gibson, Dunn & Crutcher
Laurene Powell Jobs, Co-founder of Emerson Collective
Condoleezza Rice, former U.S. Secretary of State
Joseph Saunders, Chairman & CEO of Visa
Charles Schwab, Founder & CEO of Charles Schwab Corporation
George Seifert, former San Francisco 49ers Coach
Charlotte Shultz, Chief of Protocol of San Francisco
Jeff Ubben, Founder & CEO of ValueAct Capital
Jim Wunderman, President & CEO of Bay Area Council
Steve Young, former San Francisco 49ers Quarterback
Gideon Yu, President & Co-owner of San Francisco 49ers
---
Copyright © 2013 California Newswire. This content is copyrighted under U.S. and international law and may only be used for non-commercial purposes by news aggregators or under license of the Neotrope® News Network (www.neotrope.net). .