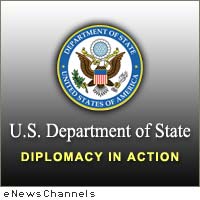 WASHINGTON, D.C. /eNewsChannels/ — The State Department's Bureau for International Narcotics and Law Enforcement Affairs (INL) announced a $4.7 million grant to Global Rights for an innovative access to justice program in Afghanistan. The program is designed to help strengthen the practical skills of future legal and human rights defenders in Afghanistan and increase access to justice for family law clients.
Key program components include:
• Young Lawyers in Training Program: Fourth year law students at Law and Shar'ia faculties will receive targeted human and women's rights training at Nangarhar, Herat and Mazar Universities.
• Legal Fellowship Program: Year-long paid fellowships will be awarded to Young Lawyers in Training Program graduates to assist local civil society organizations and select Afghan Government offices dealing with human and women's rights.
• Legal Advice Bureau: Legal Advice Bureaus will be established to provide assistance to clients trying to access the formal judicial system at Family Courts in Kabul, Mazar, Herat and Nangahar provinces.
• Family Law Clinical Education Course: A pilot Family Law Course will be established to provide practical training opportunities for Law and Shar'ia students at Mazar, Herat and Al-Biruni Universities.
The INL bureau works with the Government of Afghanistan and the international community to reform the Afghan criminal justice system, strengthen law enforcement capabilities, achieve sustainable reductions in narcotics production and trafficking, and address the cross-cutting issues of gender affairs, demand reduction, and multilateral cooperation. INL supports the Government of Afghanistan's formal justice sector in building strong, capable and independent legal institutions, building the capacity of Afghan ministries to enforce the rule of law, and provide security, justice and consistency of expectation to the people of Afghanistan.