CLEVELAND, Ohio /eNewsChannels/ -- According to the team at online school Lakewood College, 'We understand the importance of our students not only completing their program but then getting out into the real world and putting all their hard work into action. We want to bring to them the people that know how to help them get the career they want.'
BOULDER, Colo. /eNewsChannels/ -- TeamSnap, a fast growing sports management SaaS and mobile app, announces a list of local organizations using its Club and League Solution that now includes the Boulder Panthers Basketball Club of Boulder, Colo. TeamSnap climbed into iTunes' top 40 free sports apps list this month while the club continues to use it as a tool to help grow the sport of basketball.
BOSTON, Mass. /eNewsChannels/ -- WomenLEAD, Inc today announced a partnership with Sheryl Sandberg's LeanIn to revolutionize mentorship with a powerful woman-to-women online network. Boston-based WomenLEAD is committed to disrupting and revolutionizing the career mentorship model with an online network and personal advisory board platform, for women by women.
MANILA, Philippines /eNewsChannels/ -- Only a few days have passed since the resignation of Pope Benedict XVI, and already speculation is rampant about his replacement. In Asia, those who are devoted to one of the prime candidates, Archbishop of Manila Cardinal Luis Tagle, have mounted an Internet campaign to share their support of his potential selection, according to Batangas Varsitarian.
YELM, Wash. /eNewsChannels/ -- David Fairley, president and founder of Website Properties, has successfully helped people to buy and sell Internet-based businesses since 2002. And 2013 is shaping up to be another strong year in the online business sales niche. An industry expert, Fairley is not only an established website broker, but a successful website owner too.
CINCINNATI, Ohio /eNewsChannels/ -- eMedia-Affiliates LLC, a company that creates compelling publications in interactive digital form, is proud to announce the premiere issue of 'CityScape Cincinnati' - Ohio's hottest new magazine. It is a page-flipping publication that incorporates enriched media - videos, audio, pop-ups, and sharing on a host of social media as well as email. And best of all, the magazine is free.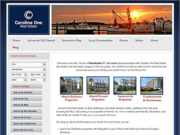 CHARLESTON, S.C. /eNewsChannels/ -- Carolina One and the Historic Charleston Group announced this week the launch of a new website, 'Charleston Buyers Guide,' that promises to deliver valuable and practical information to buyers in the Charleston, South Carolina real estate market.
IPSWICH, Mass. /eNewsChannels/ -- The Traveling Vineyard, which offers home-based business opportunities for local wine tastings, has unveiled a new Food and Wine Pairings section of their website complete with detailed explanations for why certain dishes marry with particular Traveling Vineyard wines and links to cooking instructions.
MINNEAPOLIS, Minn. /eNewsChannels/ -- LiifGroup, LLC is the first crowdfunding platform created in Minnesota. LiifGroup believes crowdfunding is best done when it matches innovative projects tailored toward diverse marketplaces. Liifsport is the world's first and only crowdfunding platform centered on sports innovation and ideas to help revolutionize the sports and recreation industry.
BIRMINGHAM, Mich. /eNewsChannels/ -- United Wholesale Mortgage (UWM), a top-10 national wholesale mortgage lender, announced that it designed and launched a unique dashboard-level reporting system for brokers. Dubbed Account Success Report (ASR), the proprietary system tracks and analyzes brokers' loan quality, efficiency and production. A monthly report is produced containing key information that gives brokers visibility into their performance and how they can improve their status with UWM.