WASHINGTON, D.C. /eNewsChannels/ — Assistant Secretary for Political-Military Affairs Andrew J. Shapiro will host the U.S.-Australia Political-Military Talks at the U.S. Department of State September 20-21, 2010.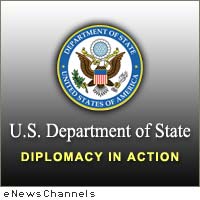 Assistant Secretary Shapiro will hold talks with Australian Deputy Secretary of Foreign Affairs and Trade Heather Smith, and Australian Deputy Secretary of Defense Peter Jennings, to build on the success of the previous round of bilateral political-military talks, which were held in 2008 in Canberra, Australia.
As key allies in the Pacific region, Australia and the United States continue to foster an increasingly forward-looking global security partnership. In addition its significant troop contributions to military operations in Afghanistan and Iraq, Australia's partnership with the United States are further reflected in regular joint exercises, consultations, and defense trade cooperation.
The U.S.-Australia Political-Military Talks focus on a wide range of political-military issues, including shared strategic challenges as well as continuing efforts to enhance partnerships in security cooperation, peacekeeping, nonproliferation and disarmament.