WASHINGTON, D.C. /eNewsChannels/ — The Bureau of Educational and Cultural Affairs and mtvU, MTV's 24-hour college network, announced today the four 2011 winners of the Fulbright-mtvU Fellowships, an academic exchange program established in 2007 to promote the power of music as a global force for strengthening and expanding people-to-people relationships and developing greater mutual understanding among cultures.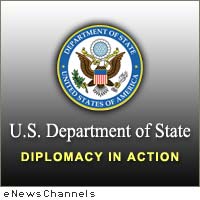 The Fellowships were awarded to Kyle K. Inman of DePauw University, Lauren Knapp of Grinnell College, Jennifer Saura of Harvard University, and Meja Shoba of the University of California, Los Angeles. Recipients were chosen through a multi-tiered, merit-based selection process beginning with field and discipline reviews by U.S. and foreign academic leaders and area experts. mtvU and musical artists James Murphy from LCD Soundsystem, 30 Seconds to Mars' Jared Leto, and Matt & Kim then reviewed and nominated the top qualified candidates. Final selections were made by the Presidentially-appointed J. William Fulbright Foreign Scholarship Board.
Through the creation of this fellowship, the Bureau of Educational and Cultural Affairs and mtvU are promoting the role of music in mutual understanding, invigorating interest in international education among U.S. college and university students, and furthering the positive impact of public-private partnerships. The four Fulbright-mtvU Fellowship winners will conduct research abroad in the United Kingdom (Northern Ireland), Mongolia, Argentina, and South Africa for one academic year on projects of their own design, around an aspect of international musical culture. Winners will share their experiences with their peers during their Fulbright year via video reports, blogs, and podcasts that will be showcased on mtvU and Fulbright.mtvU.com.
The Fulbright Program and mtvU also announced today the launch of their search for the next Fulbright-mtvU Fellows. Applications will be accepted today through March 2012. More information is available at http://www.us.fulbrightonline.org or .
The Fulbright Program is the U.S. Government's flagship international educational exchange program and is supported by the people of the United States and partner countries around the world. Since 1946, the Fulbright Program has provided more than 310,000 participants from over 155 countries with the opportunity to study, teach and conduct research, exchange ideas and contribute to finding solutions to shared international concerns.
Broadcast to more than 750 college campuses, mtvU reaches upwards of nine million U.S. college students – making it the largest, most comprehensive television network just for college students.