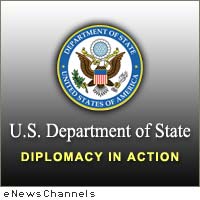 WASHINGTON, D.C. /eNewsChannels/ — The U.S. Department of State's Bureau of Educational and Cultural Affairs, in partnership with the American Association of Museums, announced today the selection of ten new projects as part of the Museums Connect program. Museums Connect links U.S. communities with communities around the world through innovative, museum-based exchanges.
Projects pair museums in the United States with museums from 13 countries abroad and involve local community members, particularly youth, to reach beyond museum walls. Awardees include:
* Coral Reef Ambassadors:
Birch Aquarium at Scripts in La Jolla, CA
National Museum of Marine Biology and Aquarium, Checheng Pingtung, Taiwan
* Digital Skies Student Partnership:
Chabot Space & Science Center in Oakland, CA
Hong Kong Space Museum, Tsim Sha Tsui, Kowloon, Hong Kong
* Girl Ambassadors for Human Rights:
The Matilda Joslyn Gage Foundation in Fayetteville, NY
International Coalition of Sites of Conscience, New York, NY
Corporación Parque por la Paz Villa Grimaldi, Santiago, Chile
Sri Lanka Plantation Workers' Museum, Paradeka, Sri Lanka
* Muslim Women's Art and Voices:
International Museum of Women in San Francisco, CA
The Women's Museum, Ǻrhus, Denmark
The Ayala Museum, Makati City, Philippines
Museum of Islamic Civilization, Sharjah, United Arab Emirates
* Next Stop: Brooklyn/Dakar:
Brooklyn Children's Museum, Brooklyn, NY
ImagiNationAfrika, Dakar, Senegal
* North-South: Art as a Tool to Mediate Political and Social Conflict:
Sonoma County Museum, Santa Rosa, CA
Gyeonggi Museum of Modern Art, Gyeonggi-Do, Korea
* Object Stories Exchange
Portland Art Museum, Portland, OR
Museo Nacional de San Carlos, Mexico City, Mexico
* Past to Present: US-Sino Bridge of Connection
Pacific Aviation Museum Pearl Harbor, Honolulu, HI
Jianchuan Museum Cluster, Chengdu Sichuan, China
* P.A.U.S.E: Pollinators/Art/Urban Agriculture/Society/and the Environment
Tohono Chul Park, Tucson, AZ
St. Louis Zoo, St. Louis, MO
National Museums of Kenya, Nairobi, Kenya
* Written in Rock: Collaboration among Azerbaijani and Pueblo Indian Communities
National Museum of the American Indian, Washington, DC
Smithsonian Institution Office of Policy and Analysis, Washington, DC
Gobustan National Historical Artistic Preserve, Baku, Azerbaijan
For more information on the awarded projects, visit http://exchanges.state.gov/cultural/museumsconnect.html or www.aam-us.org/museumsconnect.
Museums Connect builds on Secretary of State Hillary Rodham Clinton's vision of "smart power," which embraces the full range of diplomatic tools – in this case museum art, history, cultural preservation and science exchanges to bring people together to foster greater understanding.
The Bureau of Educational and Cultural Affairs promotes international mutual understanding through a wide range of academic, cultural, private-sector, professional, and sports exchange programs. ECA exchanges engage youth, students, educators, artists, athletes, and emerging leaders in many fields in the United States and in more than 160 countries. Alumni of ECA exchanges comprise over one million people around the world, including more than 50 Nobel Laureates and more than 320 current or former heads of state and government.
The American Association of Museums is the largest museum service organization in the world, serving all types of museums, including art, history, science, botanic gardens, zoos, and aquariums. The American Association of Museums helps museums serve their communities by developing standards and best practices, offering professional training and resources, and serving as the national voice of museums for the public, media, and elected officials.