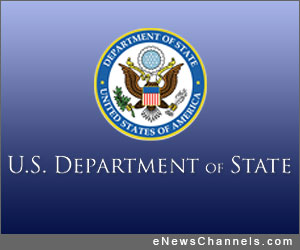 WASHINGTON, D.C. /eNewsChannels/ — The United States is working with the international community to combat the illegal trade in wildlife and promote conservation through a four pillar strategy, which includes diplomatic outreach, public diplomacy, training, and partnerships. The United States' efforts with foreign governments, international organizations, nongovernmental organizations (NGOs), and the private sector seek to reduce demand and strengthen wildlife and marine conservation, as well as related enforcement and institutional capabilities.
Diplomatic Outreach
* The United States engages both bilaterally and multilaterally to raise the profile of the growing wildlife trafficking challenge and to focus on the nexus between this criminal activity and global conservation, security, health, and economic development.
* The United States joined with leaders at the 2012 Asia-Pacific Economic Cooperation forum to issue a joint statement on wildlife trafficking.
* The United States is augmenting existing efforts in the Convention on International Trade in Endangered Species of Wild Fauna and Flora (CITES), the International Union for Conservation of Nature (IUCN) , as well as promoting practical application of the UN Convention against Corruption and the UN Convention against Transnational Organized Crime to combat wildlife trafficking. We also work with INTERPOL, the UN Office on Drugs and Crime (UNODC), the World Customs Organization, and the World Bank in the fight against wildlife crime.
Public Diplomacy
* The United States has funded public service announcements and other public awareness activities to reduce demand for illegal wildlife products, such as the U.S. Fish and Wildlife Service's (USFWS) "Buyer Beware" exhibit at Logan International Airport.
* In spring 2013, the State Department will host a group of African national park and wildlife officials, field agents, and NGO leaders as part of an International Visitor Leadership Program exchange that will serve as a means to share best practices and lessons learned.
* Senior State Department officials, including Under Secretary Hormats, Under Secretary Sonenshine, and Assistant Secretary Jones, have mobilized social media and engaged online audiences on wildlife and marine conservation and the growing wildlife trafficking threat.
Training, Technology, and Law Enforcement
* The U.S. Fish & Wildlife Service provides $10 million annually for wildlife protection throughout Africa and Asia targeting elephants, rhinos, great apes, and marine turtles. Funds are used to prevent poaching and to improve investigation and prosecution of wildlife crimes.
* USFWS spends an additional $2 million each year on capacity building through the Wildlife Without Borders program. Southeast Asian wildlife authorities receive training as part of USAID's five-year, $8 million Asia's Regional Response to Endangered Species Trafficking (ARREST) program.
* United States support for the World Bank's Global Tiger Initiative and INTERPOL's Project PREDATOR in tiger range countries has trained wildlife authorities, helped develop tiger conservation action plans, and enhanced law enforcement capabilities.
* The State Department's Bureau of International Narcotics and Law Enforcement Affairs supports the International Law Enforcement Academy (ILEA) program – providing law enforcement training to strengthen wildlife crime investigations at ILEAs in Bangkok and Gaborone. The Department of Justice and the USFWS work with international law enforcement partners – including the INTERPOL Wildlife Crime Working Group – to provide training for investigating and prosecuting wildlife crimes.
* The USFWS Office of Law Enforcement and the National Oceanic and Atmospheric Administration work in partnership with the Department of Justice to investigate and prosecute wildlife trafficking cases. The USFWS also analyzes and shares intelligence on wildlife trafficking with global counterparts and provides state-of-the-art forensic support for wildlife crime investigations.
Partnerships
* The United States is working to establish a Global System of Regional Wildlife Enforcement Networks (WENs) to improve communication and strengthen response actions. Building on existing WENs in Southeast Asia, South Asia, and Central America, we are working with partners to support the creation of new WENs in Central Africa, the Horn of Africa, and Central and West Asia.
* USAID has invested $17 million since 2005 to support ASEAN-WEN's and South Asia WEN's efforts to combat illegal wildlife trafficking through the initial ASEAN-WEN Support Program, the current ARREST Program, and INTERPOL's Project PREDATOR.
* The United States has provided more than $7 million since 2005 to support wildlife conservation in Central America and the Dominican Republic, including funding for the Central American Wildlife Enforcement Network (CAWEN).
* We work bilaterally and through Regional Fisheries Management Organizations to enhance the capacity of developing coastal States' abilities to prevent the illegal, unreported, and unregulated (IUU) fishing that undermines sustainable development and food security.
* We support the expansion and strengthening of existing partnerships, such as the Coalition Against Wildlife Trafficking (CAWT), to engage governments, civil society, and the private sector to combat wildlife crime.
* We are working with the transportation industry, NGO's, and relevant organizations to develop best practices to prevent the illegal transport of wildlife and wildlife products.
* The Smithsonian Institution works with partners on programs including biological research, wildlife health and disease, community engagement in conservation, and endangered wildlife translocation.