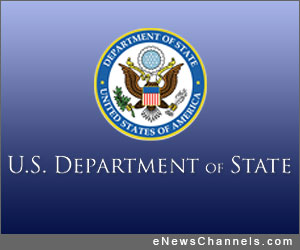 WASHINGTON, D.C. /eNewsChannels/ — U.S. Ambassador to Afghanistan Stephen G. McFarland and Afghan Foreign Deputy Minister Jawid Ludin signed agreements allocating $249 million for joint programs in counternarcotics, rule of law and law enforcement. The funds will support key programs that aim to achieve shared goals toward better governance in improving the administration of justice and enhanced rule of law, continuing the development of a safe, secure and humane corrections system; and increasing security through curtailment of the narcotics trade.
These efforts will support Drug Demand Reduction programs in Afghanistan, and community-led development projects in provinces that have successfully reduced or eliminated poppy cultivation. Our joint cooperation will continue to help establish legal assistance bureaus and promote gender justice initiatives such as the Violence Against Women Units housed in the Attorney General's Office. Funds will also be used toward in-service training for judges, attorneys, prosecutors, defense attorneys, and correctional officials.
Ambassador McFarland praised Afghans saying that "the cooperation between the United States and Afghanistan in these areas cannot be measured by money, but rather by the implementation of our peoples' shared values."
By partnering with Afghan law enforcement agencies, the United States aims to boost anti-drug trafficking efforts that fund terrorist and criminal activities, promote citizen safety, and help all Afghans access justice.